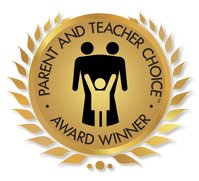 Making Camp Premium, the newest game from 7 Generation Games, has won the Parent and Teacher Choice Award for Best Mobile App from HowtoLearn.com. The Parent and Teacher Choice Awards honors the best in educational products and services. Making Camp Premium was unanimously selected by the parent and teacher judges members.
What was it about the app that stood out? Announcing the award, HowtoLearn.com wrote:
"This mobile app won our hearts because kids can learn math, history and language arts all at the same time! We love how engaging it is and how kids are so motivated to continue playing to fill the tent while racking up the points — all the while learning new skills!  Earning by learning!"  You can read the rest of the review on their website. 
The award is both an honor and testament to all the work that has gone into our games.
Get Making Camp Premium today! The app is available for Android, iPhone or Pad and browser-based (play on any computer or Chromebook) .