If you are an old friend (or stalker), you probably know that I attended Washington University in St. Louis, where I was first introduced to the Central Limit Theorem, and frat parties.
Coming full circle, I'll be back in the old neighborhood on December 29th for a 7 Generation Games tweet-up. Please feel free to drop in and have a beer. We can talk about women in tech, what it's like to co-found and run a start-up, game design, education or just what we got for Christmas. If you went to Wash U. , show up and let's reminisce about how good and good-looking we used to be. (Well, me, anyway, I'm sure you're still good-looking.)
It turns out that I am the "Celebrity Bartender" for this event. I asked my daughter, Ronda, what she recommended as a drink because she actually was a bartender in her previous life. She suggested 7 and 7 Generation Games. Basically, it's just Seagram's 7 and 7 Up. She politely informed me that it was hard to screw up. I take that as a challenge.
WHERE: Tamm Avenue Grill , 1227 Tamm Ave, St. Louis 63139

WHEN:  December 29th, 6- 9 pm
I'll have a couple of laptops set up where you can check out our games.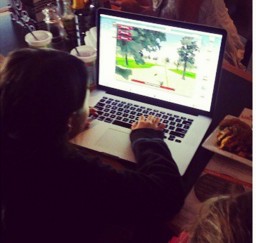 I'll be bringing some 7 Generation Games posters and a some mini-posters of scenes in the game.
We'll also have individual games, class licenses, school licenses and gift boxes available for purchase or donation during the event. If you forgot to give a gift to your child's teacher, here is a chance to get one before school starts up again.
If your children are driving you crazy claiming to be bored after you just spent $8,967.32 on their Christmas presents, spend an extra ten bucks to get a game they'll like to play and that will teach them math and social studies.
We'll co-sponsoring this event with our friends at Armbar Nation, since they relocated to St. Louis . If you spend $10 to purchase or donate an individual game license,  7 Generation Games and Armbar Nation will be providing some exclusive autographed prizes for you to win because of your generosity.
We'll also have a copy or two of Winning on the Ground (written by me in my spare time that I had before I founded 7 Generation Games ) and My Fight/Your Fight, co-authored by CEO Maria Burns Ortiz before she was CEO and had that vaguely remembered thing known as "free time".
There will be drinking. If you don't drink, there will also be food. Don't tell me you don't eat.