It's 1 a.m. in Minot, North Dakota and after an eventful Mother's Day, I concluded:
Minneapolis airport ranks near the top in bathrooms, employee art and art in the bathroom
Enterprise rental car and I are never, ever, ever getting back together after this trip is over.
I spend a lot of time in airports and I can tell you that both Tokyo and Paris airports have food that is a cut above, you'll never get through customs in Atlanta in under an hour and Miami is a pretty good choice if you're going anywhere in the Caribbean. I must say, though, that Minneapolis is the only airport I have seen with its own employee art show.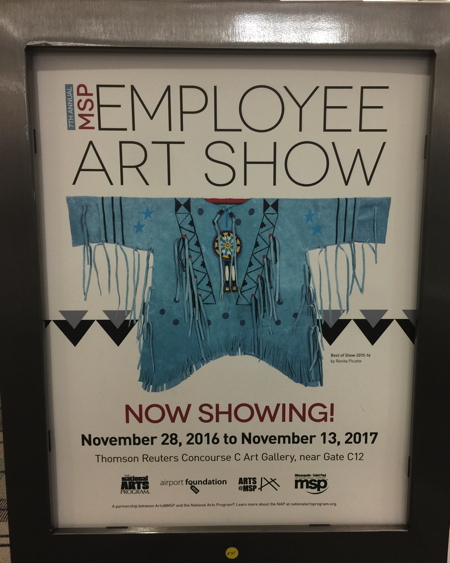 They seem to be quite proud of it, too. It was difficult to get good pictures through the glass, so you'll just have to take my word for it that it much of it was pretty good.
I sent some videos to Irma the intern that hopefully she will be able to make into something better. She is turning out to be surprisingly useful. I guess at some point I will have to admit that I am glad Maria and Dennis outvoted me being allowed to kill her in an office death match.
Minneapolis airport also was voted having the best restrooms, a fact of which they are quite proud as evident by the signs announcing this in letters a foot high. They have mosaics taking up the entire wall in their restrooms. No word as to whether this is left over employee art that didn't make the show or just an attempt to get an unfair edge in the bathroom competition.
Unfortunately, the bathroom art was the highlight of my airport-involved experience today, since when I landed in Minot Airport and went to get the rental car there were two people in front of me in line but nothing that we were actually lined up on because
Enterprise Rental Car comes in second to United Airlines in worst customer service, only because there were no employees available to punch anyone.
The Enterprise Rental Car employee decided to go home early so we all just kind of stood around the counter wondering how to get our cars, oh, but wait, it gets better.
So, we call several numbers, getting nothing but automated systems. Finally, we reach an actual live human being in the reservation center who says,
"There is no one at the counter."
This would have been helpful to us if we were too stupid to realize there was no person in front of us and that knocking on the door with no response and calling the number listed on the business cards on the counter, and then hearing the phone just keep ringing behind the door did not clue us in.
The reservation person then told us that he had no supervisor available because it was midnight and that we could call and complain tomorrow during business hours, and, oh, by the way, he did not have a number for anyone, there was no one he could call and,
"You obviously aren't going to get a car tonight."
When I asked the person working for Delta Airlines, who, by now, is the only person in the airport besides me and the people at the Enterprise counter if there was any number to call, she said,
No, I don't have one, and you'd think they'd give me one because this isn't the first time this has happened.
Fortunately for me, my friend, Evelyn had invited me to spend the night at her house rather than driving to Fort Berthold tonight, so she also ended up kindly driving to the airport to get me. A second person in the airport caught a cab to his hotel. A third guy, who had a hotel hours away, like I was originally supposed to be, well, he was still standing there swearing when I left.
Actually, before we left, someone, who was not me, spent some time going through the Enterprise counter and we toyed with the idea of taking the credit cards they had left out and just randomly filling up hundreds of people's cars with gas in Minot to get even, but the desire to teach the workshops this week, meet students and teachers using our games and not end up in jail overcame my desire for revenge
Stay tuned for road trip day 2 where I go in search of the elusive Enterprise Rental Car employee.
In the meantime, if you are looking for games that make you smarter, check out Making Camp, even if you already know multiplication and division, I bet you'll learn more about Ojibwe history and culture. And, you'll get a virtual wigwam.