Who knew that our software developer, Adekola, is in a rap band? Not only is he a coding genius, but he also sings and plays the guitar (ladies, settle down). Last week, I got to chat with Adekola during my second Facebook live video. Missed the interview? Here's your second chance to get to know him.
Adekola and Eddie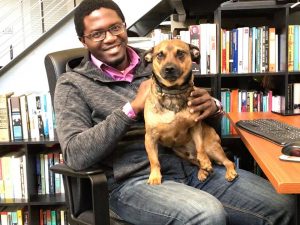 Adekola is currently studying for his master's degree in computer science at California State, Los Angeles, which isn't too far from our office in Santa Monica. He started working at 7 Generation Games in December (I started around the same time). Adekola heard about the position from our other software developer, Gonzalo, who also attends Cal State, L.A. After working with Adekola on a school computer science project, Gonzalo thought Adekola would make a great addition to the developing team and recommended that he apply. Fast forward to three months later and Adekola has already helped 7 Generation Games grow.
A typical day for Adekola includes working on our games, fixing bugs or working on the website. Currently, he is developing a system for tracking game reports. Adekola's favorite game is Making Camp because he feels that he has a personal connection to it since he put a lot of time and effort into developing the game (AnnMaria's personal favorite game is Forgotten Trail and mine is Fish Lake.). Adekola's favorite part about working at 7 Generation Games, in general, is that he gets to work independently, but also along side AnnMaria and Maria.
Another fun fact about Adekola: he is a twin!
Enjoy meeting the people behind our games? Tune in for my Facebook live interviews each week!
Want to play Adekola's favorite game? Download Making Camp from the App Store for iPad, from Google Play or play it online from your computer!