In school, I was in probably every clique but the 'cool kids'. I was in a lot of fights and hung out in "hoods' woods" with all of the other troublemakers. The woods from Forgotten Trail aren't far off.
I was in all of the advanced classes with the 'smart kids' . I was junior national, collegiate national, senior national and U.S. Open champion, plus on my college track team, so I was one of the 'jocks'.
My best friend was cool, though. She wrote for a music magazine during college, which paid her slightly more than dirt but she got free back stage passes to all of the shows and got to meet a lot of rock stars.
My unfulfilled desire for coolness was NOT the reason for having Terry Ilous of the band Great White on our More Than Ordinary podcast.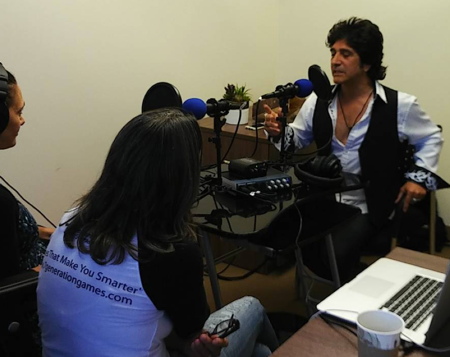 There were actually three reasons related to 7 Generation Games
As the father of a ten-year-old, Terry is very interested in education. He told us that the money he spends on his daughter's education is the best investment he makes.
Terry is very involved in fund-raising for community programs. In the interview we talk a lot about how he is the opposite of the stereotype of rock stars, frequently performing free and even organizing events for health care, cancer research and disaster relief.
Like us at 7 Generation Games, he is involved in crowd-funding. He is currently at work on a new project, funded through pledge music. In the podcast interview, we discuss the challenges that face anyone involved in crowd-funding, whether for music or games.
You can hear one of the songs off off Terry's last venture, Heaven and Hell, on our podcast last week. I'll let you know when his interview is up. We'll have another of his songs in that episode.
At last, I have done something to make my 'cool' friends from high school jealous of me!
Cross another item off the bucket list.