A few weeks ago, I posted an activity that I had started where the player had to find items in the giant's house.
(Brief background – in Forgotten Trail, there is a legend that involves a giant.)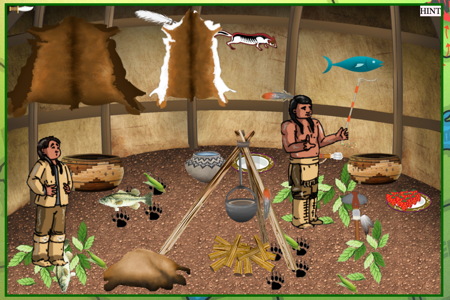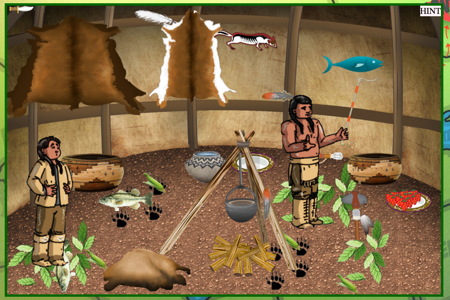 I asked input on options we were considering:
Clicking on the item gives the name for it in Ojibwe or in Spanish
Clicking on the item gives a short story about it .
Clicking on some items could play a video about it, like the coup stick
You can do a math problem to "buy" a hint, which is something you will need once we hide the items really well.
Any other suggestions we get from teachers, students or others who play our games.
Several people liked option 2, so I added a function where for most of the items, you get a short fact related to the item you clicked in Native American culture, particularly the Ojibwe people.
I added two movies (option 3). I haven't finished option 4 yet ,  using a math problem to buy a hint, although that was also a popular one, so it is in progress.
A couple of people emailed me and said that the items were just scattered around (true) and it would be better if some were hidden behind others. That was done, also. There was also something that bugged me, which was that unless your internet was really fast, the items didn't all load at the same time, so you saw, for example, the items you needed to find and then the background. If you want to know the coding behind how this was done, check back tomorrow for a new series CODING TUESDAY.
So, here you go ..
The initial skeletal frame on which I asked input
and
I am still working on this and more comments are always welcome.