I've said it before and I'll say it again – coding 16 hours a day for weeks on end looks far cooler on TV and hurts your back far less than in real life.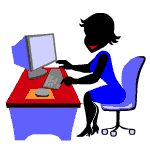 To make a long story short … we needed to create an app in a few weeks and not something that farts or calculates tips but a real app with educational activities, story line, games, artwork, movies.
It's called Making Camp and we got it finished tonight. It includes videos on math and social studies and math activities.
The big reveal will be on Friday, June 10th at 1:45 pm when Maria presents it for the first time at the Native Innovation Ed Tech Summit.
We are very serious about our commitments and we have a wonderful staff. So … we started that crazy big business thing of daily meetings.
Years ago, when I was a baby engineer, my mentor explained stand-up meetings like this:
I put down the task in each column here and I put the lies the engineers and supervisors tell me in the date column next to it.
Unlike those meetings, we almost always had what we had committed to do (okay, that I ranted and then assigned people to do) done by the next day.
Maybe tomorrow, after I get some sleep, I'll explain a little more what we did, how and why. For now, though, just three points:
We were able to create a quality product in a few weeks because we had two years of preparation. That is, we had movies, artwork, sound, code that we had developed over the past two years that we could pull together.
What you'll see this weekend is just the tip of the iceberg of what we'll have in a few weeks. (This week's version is free, so you should check it out. Runs on any tablet or computer. Phone version coming soon.)
I'm really sorry if I have not returned your phone call, text message, email or carrier pigeon. I have been very busy coding with occasional eating and sleeping thrown in. After her trip to London, Maria did make her call with the White House but that was about the only person we got back to in the past weeks. (Yeah, it's been CRAZY around here, a good kind of crazy, but that's another blog post.)