Going through our archives, we came across this great post from November 29th, 2014 "7 Tips on How Not to Fail College Math Classes " that we wanted to share in case you missed it the first time around.
I have been teaching at the post-secondary level since 1987, at schools ranging from a small liberal arts college in North Dakota to the second-largest non-profit university in the country. I've taught at private schools and public ones, and courses ranging from first year undergraduate to doctoral students. In all of those situations, some students aced the courses and some students failed. The difference between those students was NOT as some might believe, that the students with A's had some sort of magical math gene the others didn't. Nope. Here are seven tips how not to fail a college math class.
Have the textbook when the class starts. Textbooks are required for a reason. That reason is primarily that the instructor does not have the time to tell you in the lecture everything that might be useful. Every course I have taught, at least one student tells me that he or she does not have the textbook yet. This makes me wonder, "Did you not know you were going to take this course?" , because I am pretty certain that I told the university the book that would be required two months ago. Even if you have an excellent reason for not having the textbook, falling a week behind in the reading makes the class more difficult.
Read the assigned readings. You are supposed to read them. That is what "assigned" means. See #1. Also, some of the stuff you learn might not be so easy. This is why it is good to go over it twice, once in the lecture and once by reading it.
Attend all of the lectures. It can't hurt. See #2. Very few professors are so terrible that you cannot learn anything from them. If you think the professor is difficult to understand, perhaps it is because you did not read the assigned readings before the class so this is the first time you have been exposed to this material. Maybe you missed the last lecture where he or she explained the information that is PREREQUISITE to understanding the information covered in this lecture.
If you still don't understand, read the textbook again. I was an excellent student in statistics. It is what I specialized in for my Ph.D. (along with Tests & Measurement). The only statistics courses I did not get an A in, I got an A+. And still … there were many times when I read the textbook, thought I understood it, tried the problems at the end of the chapter and realized I didn't understand it so well after all. So, I read the chapter again. Sometimes for a third time.
Don't try to cram at the last minute. Math builds on itself. If you did not understand chapter two, you are going to have a hard time with chapter three. If you just read it for the first time at 3 a.m. the night before the final exam, I'm guessing you didn't understand chapter two very well.
Ask for help as soon as you don't understand something. How to ask for help is a whole post in itself.
Don't study drunk or high. This may sound like really unnecessary advice but I see people doing it. Most often it is because they are young and stupid, so drinking and getting high is part of what they do in college. Sometimes, they have fallen behind, are stressed out about not doing well in their math classes (often due to numbers 1 through 6 above), so they have a drink or smoke a joint so they can relax a little before tackling the books. "Hey, you know what would improve my ability to estimate variance? The same substance that so impairs my ability to estimate distance that they make it illegal to use while driving!"
A common factor in the first six of these is that math is cumulative. You can have messed up on the section in a literature course on whatever it is you were supposed to learn about Jane Eyre , pick up the next assigned book, Great Expectations, and still get an A on the test on that book. (I don't say this from personal experience, having avoided English courses like the plague, but I have witnessed it done by other people. )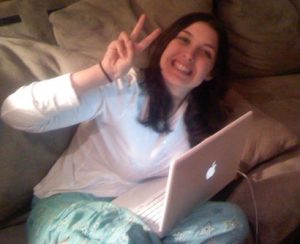 So … the next time you take a math class, try the tips above and see what happens. Maybe it is hard. Maybe it takes you a lot more work than you had anticipated. That is good, because when you graduate from college you will learn that the hard stuff is what people pay you to do. You can read Jane Eyre on your own time. (Sorry, English teachers).