Going through our archives, we came across this great post from May 18, 2012 "Starting a Business? Design, Develop, Cash & Credit" that we wanted to share in case you missed it the first time around.
Want to start a business? Think you're a good programmer? Have a good design? (By a good design, I don't mean an idea, I mean pages of  scene, character and action description if it's a game, plus – well, let's just say one HELL of a lot more than "there should be an app for that." But that's a different post.)
Do all of your friends tell you that you should start your own business?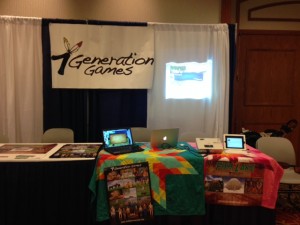 I have a few friends who also own businesses and what we all have in common is the experience of having to cover the payroll with checks written on our credit cards.
The most I have ever been in debt is $87,0000 .  At the time, we had work coming in, but our accounts receivable was increasing, not our bank balance. We had a couple of federal grants, a few commercial clients and everyone was either late paying or waiting for funds to be signed off by Agency X so they could be released to  System Y and then drawn down into our compant account.
You know those stories you read about people who maxed out their credit cards to start a business? Well, we were close – but then we paid it down to zero.
As a result, I added it up today and,  between the two of us, the rocket scientist and I have enough credit to buy a couple of houses in Florida (or a quarter of a house in Santa Monica!)
More recently, we started a project where we are still waiting for the release of funds, which means that the newly retired rocket scientist has been working twenty hours a week, for months, for no pay, while I've been working another twenty hours a week, at no pay, while doing work for actual money on top of that. In short, we have had the equivalent of a full-time very experienced programmer on this project for months. We also had to pay an accountant to do some of the financial stuff required on the contract.
We already had in place all the hardware we needed – one computer for each of us, plus older computer for testing compatibility, laptop for when I'm traveling, printer/ scanner. We have plenty of office supplies – paper, printer cartridges.
There were a couple of trips out of state required, to meet with key people, for research on site, that cost a few thousand dollars.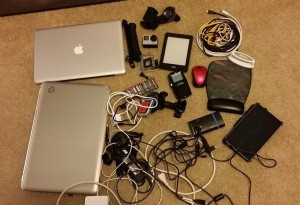 In short, if you're thinking of starting a business, you'd better be able to get by on a very reduced salary, for months. You need to have equipment, supplies and money for other expenses specific to your business. Since we sell consulting services, we don't have materials or inventory costs, but we do have a lot of travel costs to get from Point A to Point B where we are consulting, and hours to prepare whatever we are presenting. We often don't get paid until we have come back from Point B.
You'll probably have long periods where the payments from Project X three months ago are covering your bills while you do work for Project Y now. But not always.
No, this isn't a call for more small business loans or a complaint that businesses can't get started because of a lack of credit. In fact, I've had an account at one bank for 22 years and at another for 10 years. Since my credit line balance has been up, and then down to zero, several times over the years, they have kept increasing it.
I don't blame the banks at all for being reluctant to loan money to new businesses. After all, I don't expect instant loans from the biggest banks. Why should they take all of the risks while you continue to draw a salary and could walk away unscathed if your product fails?
No, this is just a heads up on what to expect to people who are planning to start a business – and to people coming in late in the game to businesses like ours expecting to be given a share of the company in addition to their salary.
If you really want to start a business, be prepared to have some skin in the game.