Going through our archives, we came across this great post by Dr. AnnMaria De Mars from December 16, 2016 "What comes after you fixed all the bugs?" that we wanted to share in case you missed it the first time around.
I've hardly blogged, answered emails or talked to anyone these past few months. We just received funding for two games and I have been working night and day, crisscrossing the country recording voices, demonstrating prototypes, contracting for art and animation, reviewing designs and fixing bugs. 
Ah, the bugs. We have arrived at the level of complexity in our games where improving one part almost inevitably breaks some other part. After months of revision, Fish Lake will be released on Steam TODAY (not a Steam member ? You can get it on our website, runs on Mac or Windows).
Is it finished?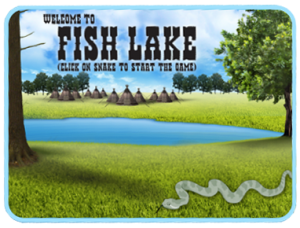 Well, as a wise man once told me, games are never finished, they're just abandoned. There are a thousand enhancements we're still planning, but we have fixed all of the bugs, tested it a hundred times, passed review, for sale on Amazon .
Now what?
Last night, I read Michael Raethel's book "It only hurts when I hit enter". It's a humor book about life as a programmer. I can guarantee that if you have spent years as a programmer you will find it funny – and familiar. I had to read aloud to my husband the prank on the guy who always claimed credit for solutions from the consultants. Maybe you wouldn't find it funny if you hadn't been there, but we had both been there. Everyone has worked with a Henry.
Reading the book made me realize how LONG I have been at this whole program endeavor. When he mentioned COBOL, I smiled and said to myself, "I remember that".
The description of the green and white lined computer paper stacked up everywhere was another memory that took me way, way back.
Then, there's yesterday when I was writing JavaScript code to have a math problem replaced with an animated rabbit when you get the right answer.
It's been a good run. I'm inside, dry and warm in my nice place by the beach while it pours down rain. If you have always had a house with heat and a roof that doesn't leak  then you probably don't appreciate that in the same way. We have plenty to eat and more toys than we need.
Still, there are times when it feels as if I have done all of this before. When I look in a filing cabinet or on my computer for a contract for consulting services, I'll find a dozen more contracts, going back a dozen years. Looking for a review of a grant, I'll come across four others, three of them funded, one of them not.
Don't get me wrong, I like programming and I like research. It's pretty amazing that I can get paid to sit and type numbers into a computer and even more amazing that those numbers can turn into a game that kids play and it raises their math scores.
And yet … In our nice building by the beach, there is a white-haired man with an office on the 12th floor, overlooking the ocean, filled with very nice furniture. He's a very successful attorney, I hear, and he is in the office every day unless he's in court. If he isn't 90 years old, he's damn close. 
Now, some people say,
"That's just what I want when I'm 90 years old – to be in full possession of my faculties, still be in demand, productive."
That is NOT what I want. Well, I want the possession of my faculties part, I mean, I don't want to be drooling on myself. However, I don't want to drop dead at my desk after having killed one last bug. 
I'm not sure what I do want but I'm sure I DON'T want to keep running like a hamster on a wheel. 
An angel investor once asked me what I planned to do once I got 7 Generation Games where I wanted it to be, played by millions of people. I said I might just sell the company and go on to whatever the next chapter in my life might be. He didn't like that answer. He said they were looking for people who were going to go off and start another company after that. He said they were looking for "serial entrepreneurs". That's a whole 'nother post , like, if you made a billion dollars the first time, you wouldn't need to be a serial entrepreneur.
Frankly, I thought mine was a perfectly fine answer. The thing about a series is that at some point it ends. Yes, Dennis, even The Simpsons will some day end.
---
Just in time for the holidays, buy Fish Lake on Steam.