It's the end of another week and that means that it's time for the Freebie Friday! Today's freebie is related to our game Fish Lake and it's a game on fractions. This is a link we like and it's called the FractOne Math Game. Since our game Fish Lake teaches you fractions, we like finding resources on similar math concepts. The FractOne Math Game gives you different fractions and you have to pair up those that add up to 1. The FractOne Math Game is available to play on CoolMath-Games.com. Click on the image below to play the game.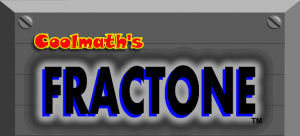 We provide resources, like the one above, for our games on our Teacher Resources page. We provide vetted links, charts, activities, videos and more so that you can supplement the content in our games when not in use. You can use our teacher resources in your classroom, at home, on your educational website or any other educational need. Be sure to browse the resources that we have to offer on our teacher resources page.
Have a great weekend and make sure to come back next week for another Freebie Friday!
---
Get Fish Lake and Spirit Lake on Amazon! Buy here!