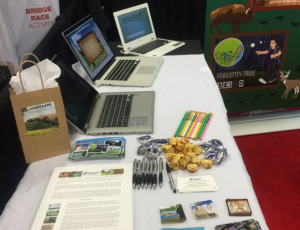 Are you heading to the TIES 2017 Education Technology Conference in Minneapolis next week? If so, let's meet up. We're going to be part of the event's StartUp Showcase in the expo hall. Come by and say "hi" for a special gift.
Stumbled upon this by chance on the internet looking up something else related to TIES 2017 and wondering who we are and what it is we do?
Think of any leading video game. Now imagine if you could take everything that makes that game cool and use it to teach math and social studies. That's what we're doing at 7 Generation Games.                   
Combining educational research, game design and artificial intelligence, 7 Generation Games makes video games that teach math in culturally relevant context – in English and Spanish.
Our games are optimized to meet technological needs from urban centers to rural and network limited communities with the aim of raising student math scores. And we're doing just that, with data showing that kids who played 7 Generation Games improved 300% over the control on the math content covered in our games in just 10 weeks.
Interweaving Native American and Latin American history with fractions, multiplication and basic statistics, we're changing the way you think of learning games for the better.
Want to learn more? Check out the rest of our site or email info@7generationgames.com today!