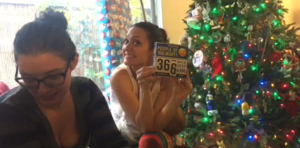 I've been sitting here trying to draft a list of things my kids want that I actually want them to have so that I can send out the Christmas lists everyone keeps asking me for. Now don't get me wrong, I love Christmas. But I am also at the point in life where I want less stuff – for myself and for my entire household. Not just in the sense that I've reached the stage where if we really wanted/needed something I have already bought it myself, but also when it comes to clutter. Unless you are a disciple of that Life-Changing Magic of Tidying Up book (which I haven't actually ready), you probably know what I mean. If you have children, I'm sure you know what I mean. Just the never-ending amount of stuff that you are constantly putting away, looking for a place to put away, throwing away that seems to be part of daily life.
We move every two or so years, which isn't necessarily something I highly recommend for your overall stress level, but one good thing about it is it gives you a chance to go through everything you own. Of course, every time, I go through everything we own and probably get rid of at least 30-40% of it (donating as much as I can). And yet, two years later, when we move again, the total amount of stuff has re-accumulated – and this is on top of my ongoing going through things. The reality is we don't need that much stuff.
And so a few Christmases ago, I started trying to shift away from the mass of gifts with tiny plastic parts and 9 million pieces. (Although to be honest, Santa always indulges the children in some things that I would NEVER agree to buy them – as my 9-year-old points out in her case for why she is leaning toward believe on the whole Santa debate raging in 5th grade.) So I've started trying to buy experiences or virtual things.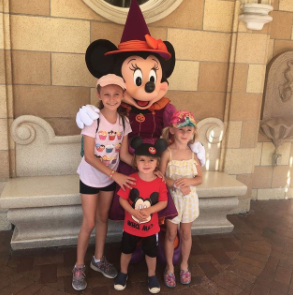 We got Disneyland passes a couple years ago, and they're certainly worth 100 Lego sets as we can go throughout the year  – and I don't have to worry about needing to do that finger sweep to remove the tiny pieces from my 2-year-old's mouth before he chokes on them. One year, Eva and I got a safari at the San Diego Wild Animal Park. Last year, my mom bought me and the girls tickets to see Matilda last year. I used some of my MANY hotel points to get a suite and have a girls' weekend. They still talk about that trip more than any sparkly headband making kit with an ungodly amount of glitter or whatever it was craft project I secretly threw away without them even noticing.
Better yet, my kids totally happy with gift cards for places like Starbucks, Disney, their favorite restaurants or clothing stores where they then use those gift cards to buy things that I would be paying for later on anyway. It's honestly a major win-win.
And last, but not least, I recommend digital things – and I'm not just saying this because we sell digital things (as in 7 Generation Games awesome games). Things like iTune gift cards to buy things like the Descendants 2 movie to watch a million times or Steam gift cards to buy video games or 7 Generation Games which can be easily gifted directly to their inbox. That is things that they will actually want to interact with that don't need to be picked up, put away or thrown away because for the love of all things God and Christmas, we just don't need any more junk in our house. (Now, dumb gifts are a whole other thing…)
If you feel the same way, check out 7 Generation Games. You can give as a cool, fun gift for the kids in your life or you can sponsor games for kids from low-income areas as a gift for the grownups in your life who don't need another sweater, scarf or picture frame.