What sideloading has to do with Trinidad
You might wonder what this post has to do with Trinidad. Well, when I was in Port of Spain last week, I met up with Shawn, another entrepreneur from Startup Chile. His company, Dingole, has an app to teach how to play the steel pan, called Panjam. I wanted to check it out but it was not available in the Oculus store. I needed to sideload it.
What is sideloading?
If you don't know, now you know – sideloading means getting apps from other than the 'authorized source'. So, getting apps on your Android phone that didn't get downloaded from the Google Play Store, apps for your iPhone not from the Apple app store or apps for your Oculus not from the Oculus store. You might want to do this to get access to software before it is approved for sale in the various stores. There is, of course, some risk to this and I would not advise it unless you knew the developer.
Sideloading can be done by anyone but when a developer tells you that it is "easy", the word probably doesn't mean what you think it means. Ignore them and follow my instructions below.
Also, why it may seem intimidating at first, most of these steps you only need to do once.
Step 1 in Sideloading – download and install sidequest
There may be other software, but this is what I used with my iMac. The software is free and just takes a minute to download and install.
I downloaded and used the version for M1/ARM Macs.
The software is also available for intel-based Macs, Windows and Linux but I didn't try that. I do have an intel Mac so may check it out with that later.
Step 2: Create an organization and register yourself as a developer
Follow this link, also available in the sidequest instructions, to create your organization.
Since I already work for an actual organization that makes games, I registered 7 Generation Games. It just asks for the name, though, so I am pretty sure "Martha's Bathroom Stall" would work. I was already signed in to Facebook, which is also the account I use to sign in to my Oculus, so it automatically added me as a 'member' of this organization.
Step 3: Go to your iPhone /iPad and select developer mode on the Oculus app
You may already have it on your phone. If not, download it. It will ask you to sign in. When I had originally gotten my Oculus, I used my Facebook account to sign in, so I used that to sign in on my phone. (You did know Facebook owns Oculus, didn't you?)
In the Oculus app on your phone, select devices. If your quest doesn't show up, turn it on and move it closer to your phone. If it does not show as connected, click the button under the name (like My Quest 2) to connect the device.
Once. your device shows as connected, click the DOWN arrow next to your device name. Scroll down until, under Headset Settings, you see Developer Mode. Click that and then click the button to set Developer Mode to On.
Connect your Quest to your computer
This is super simple. Just plug one end of a USB cable into your computer and the other end into your Oculus quest. Now, go to your applications folder on your computer and double-click on Sidequest to open it.
You should see something like v0.10.26 Oculus Quest 2 with an orange-ish dot next to it. Like the image below. I know that dot is green. I am getting there. Your number may be something different from 10.26 because you have a different version. Don't worry about that.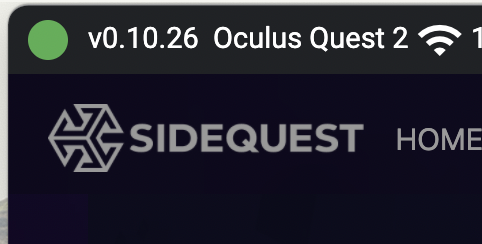 Now that your quest is connected to your computer, put the headset on and have at least one of your hand controllers. A box will pop up asking if you want to allow USB debugging. Click ALWAYS ALLOW from this computer. Now your dot above should be green.
If you get stuck and need a video to review these steps, check this one out
Download the apps you want
Okay, now you are set up for sideloading. You should only need to do the above steps once as long as you keep the same Oculus, computer and phone.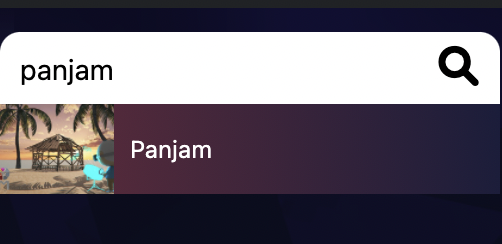 To download the app,
Make sure your Quest is connected to your computer with a cable
Go to sidequest app on your computer and search for the game you want.
Just click on the game name or icon to go to the page.
Click the button on the page that says Download app (sideload)
Opening the app on your quest
Some older web pages may tell you to look in the Library to find your sideloaded apps but you don't see anything that says Library! Ignore them, too. FYI, you do NOT need to be connected to your computer to play the apps you downloaded. In fact, it will probable be more convenient if you are not connected.
Click on the icon for your apps (that bunch of boxes on the right).
On the top right of your screen, you'll see the word ALL. Click the down arrow next to that.
Scroll down to Unknown Sources – on my menu that's the last choice. Click that.
Select whichever sideloaded app you want to open it.