Earlier this week, I watched Navajo culinary arts chef Carlos Deal of Tuba City, AZ prepare an organic and locally sourced lamb bento box as part of "Sharing Recipes Past & Present," a community presentation by the Dine' College Land Grant Office.
Deal, who is originally from Big Mountain, AZ, is a certified chef and entrepreneur. He owns and operates AlterNative Eats, a catering business.
The Navajo lamb bento box is a shining example of how an Indigenous chef engaged in food sovereignty by artfully served Indigenous-grown foods coupled with wild-gathered herbs such as greenthread tea.
The bento lunch is originally from Japan. It captured Deal's passion. In Japanese history, bento meals were traditionally made from scratch for members of the household. The traditional bento is assembled with care using healthy ingredients. Now they are ubiquitous, coupled with international fusions that now, thanks to AlterNative Eats, includes homegrown Indigenous food.
Virtual audience members tuning into the broadcast brightened with delight as Deal roasted some locally Navajo lamb meat in garlic basil butter, frying up a layer of flavors. He added some butter to the bed of potatoes as he let the roasted lamb rest, so the juices would absorb into the meat. Then came the fresh salad, which was sourced from a Navajo-owned farm called Ch'ishie Farms. He drizzled on some sesame ginger vinaigrette.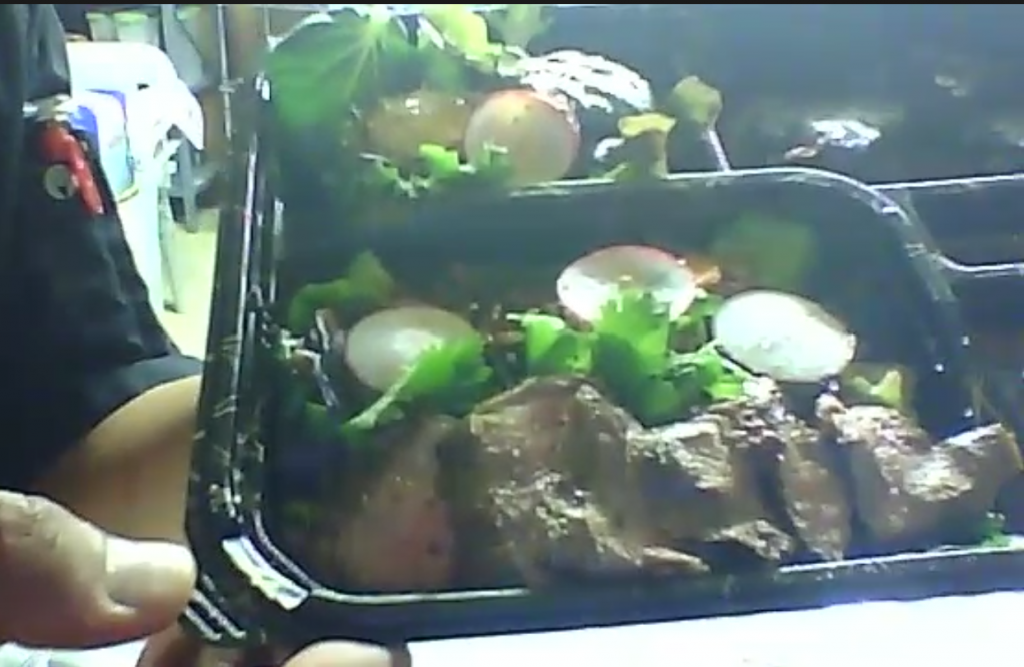 As a mild and healthy dessert, the Navajo chef added honey-drizzled toshchiin, or blue corn mush, to the bento. "Fresh apricots, dates, mixed nuts or apples make great toppings for mush," Deal said as he garnished the toshchiin with mint. An audience member in chat piped up: they'd never seen a mint sprig decorate toshchiin before! "Fancy," we all thought! Chef Carlos Deal presented the finished Navajo bento box with piping hot greenthread tea. Our mouths watered!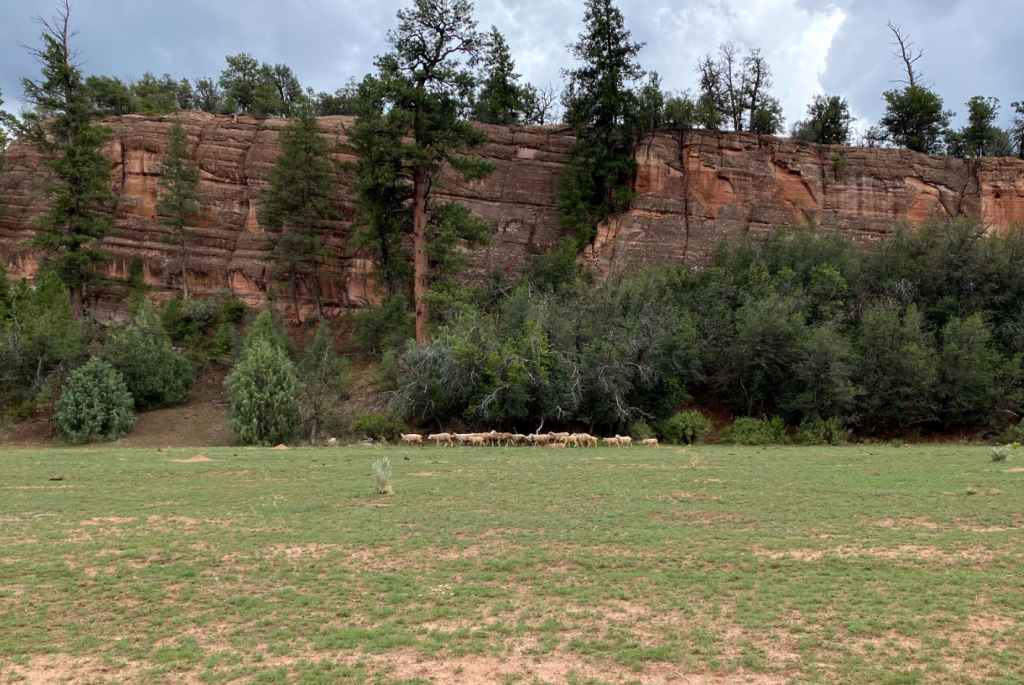 Deal's relatives taught him that homegrown lamb and mutton, or dibe' bitsi', was a cornerstone of family meals and ceremonial gatherings throughout the centuries. "Lamb is sacred," Deal said.
The Navajo Nation has many expanses of "food deserts." According to the NICA and Navajo census, there were around 10 grocery stores serving a population of 150,000 Navajo people living on the reservation. That's one grocery store for every 15,000 people.
There is a viable solution. Local farms would allow Navajos to save gas and provide healthy and delicious options for all. "I have a spiritual feeling when I work with local vegetables grown by our own people on our own land," Deal said. "If you have a greenhouse, you can grow greens year-round."
Deal shed light on the hefty investments local Navajo farmers put into farming. "A lot of people sacrificed to do this. We're planting again. We're using local products again. We're working towards this dream of food sovereignty."
Statistics would help track Navajo crop yields and local demands for local meat and produce. Deal noted that tribal food vendors also needed local business infrastructure in order to grow. "We need more commissary kitchens for startups and food trucks," he said. As an added twist, federal trust land regulations can hinder infrastructure, so food vendors often operate on the fly.
In any case, Deal networked with food sovereignty advocates and farmers. He spoke of his friends who had used traditional planting sticks, a simple tool of the Three Sisters: beans, corn, and squash. They said their planting sticks had come to symbolize a way to end poverty in Indigenous communities.
"We might not get to see the end of this dream we are fighting for," Deal said. He addressed the audience: "To all the chefs and farmers, don't stop what you're doing. Surround yourself with like-minded people. We're all building this for the future. Think big as farmers!"
Want more awesome content like this? Give us your email to sign up for our newsletter