My list of ideas I have for next games is just about infinite (so, if you're planning on investing in our next seed round, be quick and email maria@7generationgames.com ).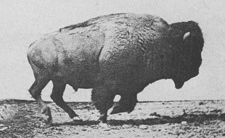 One game on the drawing board is a Dakota version of Making Camp and somewhere in there I'd like to fit a lot about the buffalo, because, I believe, as Jose Gonzalez said, that history is more than names and dates, it is about how people lived.
Buffalo rib bones were used to make sleds.  – I think after players watch a short video about the uses of buffalo and correctly answer some questions, a Javascript game where they can put together their sled and go sledding would be a fun reinforcement and not too hard to program.
Buffalo teeth were strung on a necklace. – I guess I knew buffalo had teeth but I never really thought about it.
Dung, also known as buffalo poop, at least by my grandson, once it was very dry could be burned for fuel.
The shoulder blade – the sort of flat end of the top of the leg bone, was used as a shovel or sometimes a plat.
Hair / skin was used for blankets and insulation for tipis. Hides that are smoked have their pores filled with pitch from the fire, so they become water-resistant. I think you could do a whole science lesson on tanning hides.
Buffalo horns could be used for drinking cups
Bladders were used as containers for water (makes sense, right?) . You could also make "envelopes" out of them to hold kind of flat things. If you were carrying around porcupine quills that you were going to use for decoration, say, how would you store them? Why, in a buffalo bladder. Who knew?
So, now you know one of the many, many ideas on the drawing board. If you'd like to see these happen faster, please support us by buying one of our existing games. If you already know everything about math and history, you can donate games to a school. If you have no money, it's okay to play Making Camp for free. We like that, too!
To learn more about buffalo, check out the Intertribal Bison Council and their publication, Buffalo Tracks.