You might have thought the 2017 election season was over after yesterday – you'd be wrong. Well, kind of. We at 7 Generation Games need your vote. If you're reading this post and thinking, "Where do I go vote?" the answer is right here. (And you can go back and vote once a day!) If you're a little more reserved and wondering, "What am I voting for?" please read on.
As you may have heard, I was selected as one of the U.S. entrepreneurs to attend the Global Entrepreneurship Summit in Hyderabad, India, where founders from 160 countries will meet along with investors and policy leaders to discuss innovation and entrepreneurship (hence the name) with an emphasis on female-led companies and improving global equity.
As part of that, I'm competing in the GES 2017 pitch competition, where semifinalists will have a chance to actually pitch their companies as part of the event. The top 32 vote getters will advance to the live pitch round – and I know given our amazing group of newsletter subscribers, Kickstarter backers, social media followers and fans can certainly help make that happen.
It's super easy (and free) to do – you just go to the site here and sign up. (Yes, you have to create an account, but it's a one-time process, they're not going to send you a bunch of junk emails and think about how many other times you've signed up totally random things.)
Then go to the one that says "Maria Burns Ortiz of 7 Generation Games" and vote. You might have to scroll or you can just search the page for either "Maria Burns Ortiz" or "7 Generation Games." It looks like this: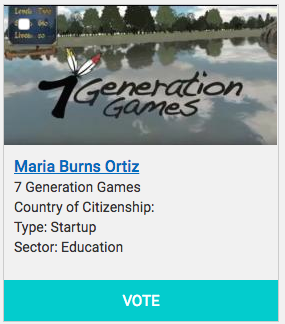 Voting is open through the evening of Nov. 23 – and you can vote once a day.
We say it all the time, but we are incredibly appreciative of the amazing support and community we've started building around 7 Generation Games and the work we do. Thank you again for supporting us on our road to GES and helping us get a chance to literally tell the world what we're doing to help make kids smarter and change the world one math problem at a time.