7 Generation Games sponsors edcamps all over the states. But do you even know what an edcamp is?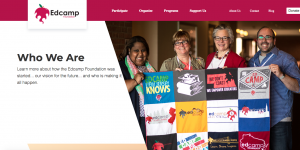 AnnMaria and Diana laughed at me when I said that I thought an edcamp was an educational summer camp for kids (my mom signed my brother and I up for learning based camps every summer during elementary school so I was getting flashbacks to spending my summer days inside filling out math worksheets). However, edcamps are actually for teachers, not kids and they are more like personally scheduled conferences than camps. During edcamps, teachers come together to participate in specialized activities and learn from each other. In May 2010, a group of teachers got together in Philadelphia to share ideas and experiences related to teaching. This would become the first edcamp, eventually expanding on a national and international level. 
Everyone who attends an edcamp sponsored by 7 Generation Games gets a FREE individual game license for one of our awesome games. Additionally, attendees who enter their edcamp raffle have the chance to win a free classroom license for an entire year as well as some other 7 Generation Games classroom goodies.
The names and dates of the upcoming edcamps we sponsor in March are listed below:
Edcamp CASA

Edcamp336

Oak Park, MI

Winston-Salem, NC,

3/24/18

3/24/18

EdcampPGH

Edcamp York

Aliquippa, PA

York, PA

3/24/28

3/24/18
Unable to attend any of these events, but still want a chance to play our games? Get our games here.