In case you live under a rock and haven't heard, AnnMaria is working abroad in Chile expanding 7 Generation Games to the Latin American market. One of her latest business ventures is revamping our Spanish website (no, she hasn't been exploring parks and going to museums everyday). We recently improved our English website, but we haven't updated our Spanish website in years! We will be the first to admit that the Spanish version of our website is in need of a makeover. The new and improved website will be ready in April and will include many exciting new features such as:
Spanish Blogs
The new website will include blogs in Spanish! On our English website, we write about a diverse range of interesting topics including everything from working at a start-up, women in tech, teaching, blended learning, to parenting. Whether Spanish is your first language or you want to build your Spanish reading skills, our Spanish blogs are for you.
Teacher Resources
It is probably not surprising that our teacher resources pages on our English website are popular among educators. Now, educators will be able to access these resources (as well as new resources) in Spanish. While some of our Spanish education videos from Making Camp: Bilingual (such as the one below) are available on our Youtube channel, you will now be able to access the complete list all in one place.
A More User Friendly Interface
In contrast to our old Spanish website, our new Spanish website will be easy to use on mobile devices, aesthetically pleasing, and contain clear links to additional resources. As you can tell from the image below, our old website needed a new interface ASAP.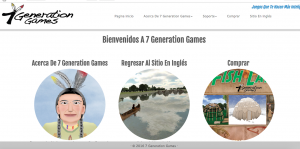 Can't wait to practice your Spanish skills until April? Play Making Camp: Bilingual today, available on the App Store and Google Play.