We had Dean Dauphinais, Jr. on the More Than Ordinary podcast this week talking about the charity he co-founded, All Star Vets. One of his motivations he mentioned was that veterans are often people who entered the service at a young age, as teenagers, and they were "part of a tribe" in the military. It gave them a sense of belonging, shared expectations, a sense of value. When they leave the military, they lose that and that loss, along with having to find a job, find a new group of friends and colleagues, is one of many challenges in re-entering civilian society.
So, what has that got to do with you? Well, before I headed out to take the grandchildren to the museum, I'd promised to talk more about why YOU matter when we make games, and particularly when we do a Kickstarter campaign. Because it is important to get people behind an idea that education matters, learning math matters, learning history matters, students matter. We all say these things but when you look at the highest-funded projects on Kickstarter, they are things like a cooler with speakers and a USB port or a jacket that folds up to be a travel pillow. So, yeah, yeah, kids matter but that's someone else's problem, what I really want is for something to keep my beer cold and charge my iPhone at the same time. Every time we can get 100 or 200 people behind a project, when I go into schools that are sponsored with game licenses, when we send a game to a kid in foster care, it is a message that,
"You matter. There are people out there that really care enough that you do well in school that they paid an extra few dollars so that you could get a game along with them."
When we have hundreds of people playing the early versions of games, their comments and the feedback we get, even the feedback that requires no effort from you, like tracking how many people played past the first level, that information helps us make the games better.
When you retweet the links to our games, share it on Facebook or tell your friends, it's that many more people who know that there are math games that really teach, games that integrate math and history, that include real situations with math. So often, we hear people say,
"I wish I'd had this when I was a kid."
I know you have a lot of things to spend your time and money on. I also think, though, you might feel a little better being part of a group that shares games that help learn math instead of only pictures of fat people at Wal-Mart and you might feel good learning about history yourself while helping other people have more resources to learn.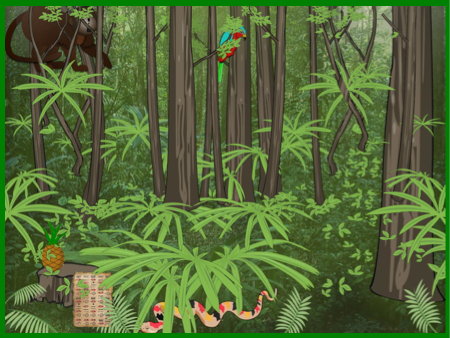 So, what does all of this have to do with virtual pineapples?
The whole reason we are doing our latest Kickstarter campaign is to add more fun and learning to Aztech Games. We created these games for schools but we know that whether it is being a better writer, martial artist or mathematician, one key to success is more practice. It's one thing to replace math worksheets and make it so you don't have to fight about homework, and that's great. However, to get even more people to play games, you need to make them even better. The funds from Kickstarter will allow us to add dozens of bonus questions and extra features to keep players, well, playing.
For example, early in Aztech : Meet the Mayas , you'll have an option to click to see what Jose is thinking. In fact, he is thinking he hears something and it is a howler monkey talking to him. This bonus scene teaches you something about howler monkeys and also how the Mayas lived as you have to play a search game to find objects used by the Mayas. Each item clicked, whether you need it or not, will do something – howl, shake, slither – and it will also give you a bit of information – like that the pineapple was in Central America long before it came to Hawaii.
Which is why today, on what is ostensibly my day off,  I was editing an image of a pineapple and dropping it into my jungle scene.
Making good games matters and it takes a whole tribe to do it.