A few years ago, when we were doing a Kickstarter for AzTech: Meet the Maya, I was trying to think of a catchy subject line that would get people to open my email. My husband suggested "Free Cheeseburgers" because everyone loves burgers. Our CTO Dennis weighed in on this very important outreach strategy to say, "People do like cheeseburgers." (As a vegetarian, I would like to add that – especially with the many newcomers to the non-meat meat market – this is not just limited to carnivore diets.) 
Now, I was going to say that I can't promise you cheeseburgers, but then I realized that I literally put cheeseburgers in our game Making Camp: Dakota – Past & Present and the game is free to play, so I've already given you free cheeseburgers. That's the kind of cool thing that we get to do at 7 Generation Games, bringing ideas that seem completely out of the realm of possibility and making them real and fun learning experiences. 
And we're raising our community round to continue doing that and expanding the impact that we're able to have. And you can invest for $100  — or more, if say you want to invest $5,000 instead of spending it on this fancy burger. (Or if you're the type that spends $5,000 on a fancy burger, you certainly have money to also invest in 7 Generation Games.)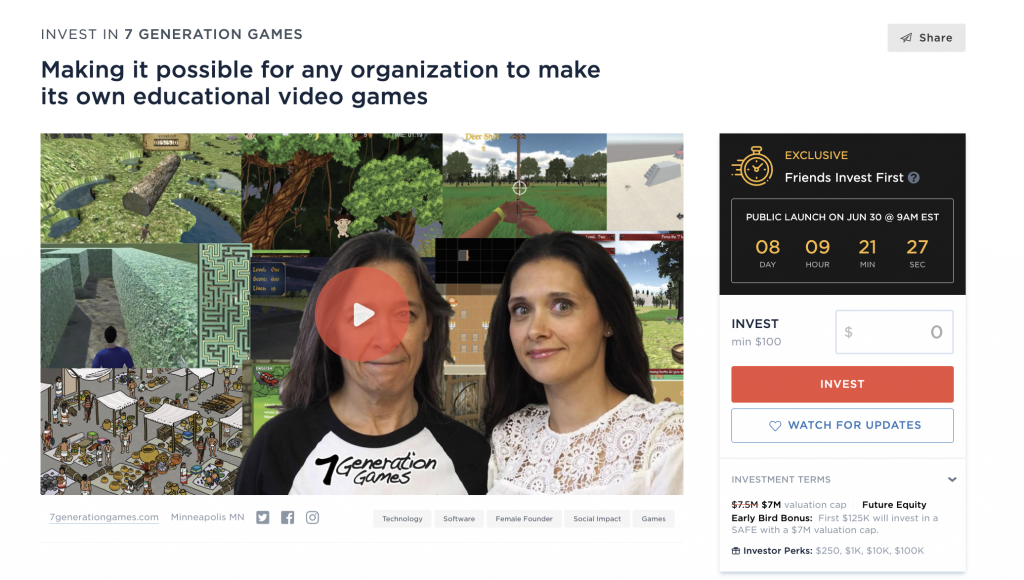 In fact, AnnMaria and I – and many members of our incredible team here at 7 Generation Games who believe in the work we're doing – have been sending out a crazy number of personal emails around our community round. Emails that say things like, "I can't believe I haven't seen you since the COVID before times at Sally's wedding." And "It seems like things have been really growing at X Corp. It's incredible what you guys have been building." And "Timmy is going into fourth grade already?!" Like genuine things beyond cut-and-paste "Dear [NAME HERE]." 
But beyond burgers (as in "aside from," not the meatless brand) and witty email subject lines, part of getting people to invest via a community round is getting the word out. And we know that is about more than just sending out a bunch of mass emails. 
But that doesn't mean there isn't a place to send out those mass emails. 
Sending to a large list of folks all at once gives us the chance to say, "Hey, it's been a while! Here's what we're up to: RAISING A COMMUNITY ROUND!" In which case, you expect an individual follow up. (That said, if you just click the link and invest now, you'll be one of my favorite people on the planet!) 
Or "Hey I reached out to you personally about how we're RAISING A COMMUNITY ROUND. This is my gentle follow up about investing in it." (Nudge, nudge.)
And look, I can't actually offer everyone non-digital cheeseburgers (just like I can't offer guarantees of financial returns, just like any other investment). But I can say that if you invest in 7 Generation Games, we will continue to do everything we can to make the company a success. 
And you'll get another email from us – expressing our eternal thanks!
Testing the waters legal disclosure: We are 'testing the waters' to gauge investor interest in an offering under Regulation Crowdfunding. No money or other consideration is being solicited. If sent, it will not be accepted. No offer to buy securities will be accepted. No part of the purchase price will be received until a Form C is filed and only through Wefunder's platform. Any indication of interest involves no obligation or commitment of any kind.