We are Water Protectors
Written by Carole Lindstrom and illustrated by Michaela Goade
Spark up your child's reading list for National American Indian Heritage Month with We are Water Protectors. We are Water Protectors is a picture book inspired by the Standing Rock fight to protect clean water rights and access. Carole Lindstrom weaves together this narrative for children that details why water protectors join forces to protect a precious water source. Michaela Goade's bold ocean palette provides the canvas that brings the story to life.
"In Ojibwe culture, women are the protectors of the water and men are the protectors of the fire. Perhaps it is for that reason that I felt compelled to speak for the water through this story."

-Carole Lindstrom
This is a beautifully written account adapted for kids about the water protectors at Standing Rock. It is written by indigenous people for young people who will discover how water is important and sacred to indigenous people, accompanied by beautiful watercolor illustrations.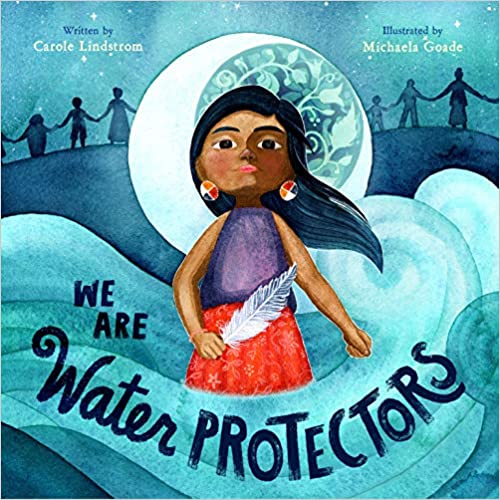 Carole Lindstrom is Anishinaabe/Metis and is a proud member of the Turtle Mountain Band of Ojibwe Indians. She was born and raised in Nebraska and now lives in Maryland. She is a self-proclaimed library geek and grew up as a bookworm. She didn't begin her writing career until after she became a mom, where she discovered her love for storytelling.
Michaela Goade is an enrolled member of the Tlingit & Haida Indian Tribes of Alaska. She is an artist and picture book illustrator living on traditional Tlingit land. Her work includes Her favorite color is ocean blue.
Check out our educational video games!
We have Making Camp Premium and Forgotten Trail, which focuses on Ojibwe culture and history. Making Camp Premium offers multiplication, division, and ELA support against a backdrop of Ojibwe history. Learn multistep problem-solving with Forgotten Trail, which is for grades 5-7.