Last month the 7 Generation Games team attended the California Association of Bilingual Education (CABE) 2016 conference in San Francisco, CA.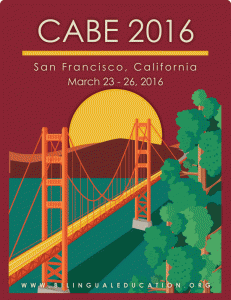 As part of our presence there, our CEO, Maria Burns Ortiz and educator Jovi Buendia, presented a proposal entitled: Educational Games for ELL: State of the Art. The talk covered educational video games and their importance and usage in the classroom.
We know that most of you weren't able to attend, so we want to give you access and share with you the PDF PowerPoint. Not only did the presentation get a great response at CABE, but many school districts and educators have been contacting us wanting to try our video games to engage and improve their students test scores.
Take a look at this amazing resource:
EDUCATIONAL GAMES FOR ELL: STATE OF THE ART