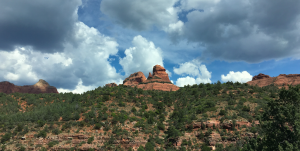 A year ago, I traveled to Flagstaff to attend the Native Innovation EdTech conference. To be honest, heading out there, I didn't know what to expect, but the event certainly seemed to align completely with our company mission. It was an incredible conference – where we debuted Making Camp, which launched us into the native app (as in apps native to iPad/Android) space. I am really excited to be returning for the 2017 conference next week.
When we were asked to come back this year, I jumped at the opportunity – but we wanted to do something different this go-round. Something that is admittedly ambitious and that I was a little worried about approaching our developers about because we're already launching 4 other games this summer. However, their answer was a resounding "Let's do it." And that's creating a completely new game.
One thing about our company that I'm really proud of is that we listen to people. We listen to teachers when we make our games. We listen to kids who play them and incorporate their feedback. And we listen to feedback we get from sessions we present at.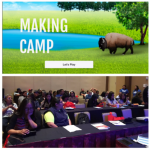 Last year, I got a lot of great feedback on Making Camp and our session. The vast majority was positive, but there was one thing that came up several times that I totally understood. They attendees, the majority of whom are from the Southwest, were interested in games that featured their tribes. Which we totally understood – because we have seen firsthand the positive impact and huge increase in engagement that Native students have had when they see people from their culture portrayed in our games, when they hear words from their tribal languages spoken in voices that sound like people from their communities (because they are people from their communities), when they see characters that look like them and when the stories are about their unique histories.
In building our games, we make sure that they appeal to all kids – that the storylines and games are engaging – but we do so keeping in mind the kids who are going to see people like themselves in our games: whether they're from the Native tribes we've worked with to build our games; whether they're from Spanish-speaking households; whether they're from small rural towns. We're looking to build games that teach math, and along the way, we're keeping in mind kids who never see relatable characters in games and including them in the narrative. We're trying to make sure kids who feel like depictions of them in games are invisible, see that they're not.
Because of this, when it came to returning to Native Innovation this year, I wanted to do something to take into account the feedback I had gotten last year. It meant doing something bigger and better, but also super exciting. We're building a completely new game with the attendees, asking them to be a part of the cultural content process. That means creating movies and learning activities that will reflect their culture to educate and engage both the kids in their communities as well as any kid who plays our game.
The game will be free to anyone and available across all devices: Mac, Windows, iPad, Android and Chromebook. The math content will focus on division.
If you're going to be attending Native Innovation, stop by our sessions or even just stop by on Friday during our workshop drop in – and let's make something that relates to your students and that students everywhere can use!