We've made a lot of progress on Forgotten Trail this week. I really wanted to be working on Aztech but thankfully, Gonzalo, Eric, Manny, Justin and Stephen have been on that. We've also gotten some feedback from our teacher-consultants, Jovi, José and Annie. Thank God because my time has been sucked into a black hole of:
Presenting results from analyses of Fish Lake (short version – student performance in low performing schools is depressingly low but did show improvement with our games),
Finishing educational resources for Forgotten Trail and trying to make them as interactive as possible,
Doing the first instructional resources for Aztech and trying to make those as engaging and educational as possible while simultaneously insuring that everything lines up with Common Core standards,
Working with our friends at Fort Berthold on a new game design for a grant that is due in 17 days (but who's counting),
Completing financial reports for investors,
Responding to inquiries from school districts.
My niece asked me how exactly an accelerator works. HOW does your business develop so much faster in the space of a few months?
One way is that there are so many demands on you as far as data and plans – what's your cost of customer acquisition, weekly burn rate, projected number of users next month, etc. etc. that you're forced to work more hours. Still, going from working 65 hours a week to 84 hours doesn't explain how your company can progress two years worth in three months.
In our case, I think being part of Boom Startup forced some decisions. It's become abundantly clear that we need additional staff. Maria is interviewing sales people over the next couple of weeks.
We'll be increasing our developer staff as well. I'd like to do it sooner rather than later but the person we want isn't available as soon as we would like. One thing I have learned about hiring is that it is  better to have the right person than a person right away.
Investors always want to know about your technical co-founders, but what I have found is that being 1/2 or 1/3 of the development team and CEO at the same time is a recipe for never sleeping again.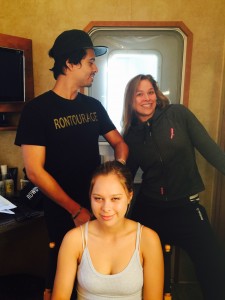 Another thing I learned lately is that you can get a surprising lot of work done filming 12 hours a day because really, there's only about 2 hours of actual filming and 10 hours of waiting around when you can be working on games or proposals on your lap top.  I don't know how much I'm allowed to say about this and you never know what ends up being used so I will just say that if you watch UFC 192 you might or might not see something extra, because, who knows.
If you can't afford pay per view, you can always download one of our games for $10 and play Spirit Lake or Fish Lake instead. You'll also get smarter.
Forgotten Trail will be out in a few weeks if I don't die of exhaustion first.