Happy Friday everyone! It's the end of another week and it's time for your weekly dose of a freebie from 7 Generation Games. Today's freebie is from our game Spirit Lake. The freebie is a certificate of achievement.
The certificate of achievement is to use when your students have completed and excelled in our game Spirit Lake. 7 Generation Games thinks it is important to recognize this accomplishment, which is why we have provided you with this really great certificate. You can download the certificate below:
Spirit Lake – Certificate of Achievement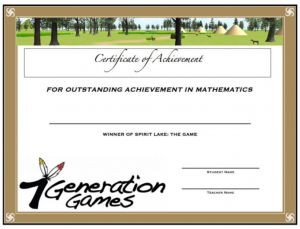 You can find this freebie and many more for our games on our Teacher Resources page. Our teacher resources page is filled with resources like power points, activities, clip art, and vetted links that you can use in your classroom or at home. So feel free to check out what we have to offer!
Have a great weekend and come back next week for another dose of the Freebie Friday!
---