Hello everyone. We know you're looking forward to the weekend already, but before we get there we have today's Freebie Friday for you. Today's freebie is from Forgotten Trail and it's the list of math standards in the game.
When you use our games to supplement your teaching, we want you to know what math standards you are fulfilling. That is why we have made that easy for you. Below you will find a PDF file listing all of the math standards addressed in Forgotten Trail. The standards are listed by grade level and where each is found in the game.
There are currently 19 standards taught and assessed in Forgotten Trail, of which 17 are standards for grades 4-6. There is 1 standard at the second-grade level, 1 at the third-grade level, 6 each at the fourth- and fifth-grade levels and 5 at the sixth-grade level.
You can view and download the list of math standards found in Forgotten Trail below.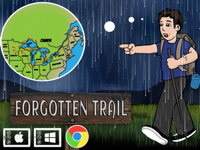 We like to provide resources, like the math standards above, because in this particular case that pdf list is a really big help to teachers. But, overall we like to provide these resources because they really supplement the content in our games. You can find other great teacher resources on our Teacher Resources page. There you'll find videos, clip art, activities, historical photos, and more that you can use in the classroom, at home or for any other educational need. Also make sure to browse our teacher resources on other various educator sites. We have great math videos on our Teacher Tube channel since that may be more accessible to educators than other video websites. What can we say, we really want to help out educators, which is why we also have more resources on our Teachers Pay Teachers page. Be sure to check them out! Have a great weekend and come back next week for another Freebie Friday!
______________________________________________
Join Angie and Sam as they follow in their ancestors' footsteps and go an adventure. Buy Forgotten Trail for only $4.99!