Hi everyone, it's time for another Freebie Friday. Today's freebie is associated with Fish Lake and it is a historical photo. The historical photo is of Hole-in-the-Day (Younger). Hole-in-the-Day (Younger) was a prominent chief of the Mississippi Band of the Ojibwe(Chippewa) of central Minnesota. He was their chief until assassinated in 1868. You can view and download this historical photo below.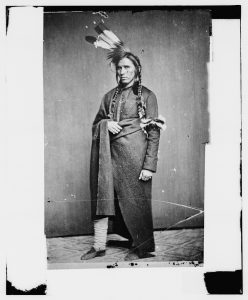 We like to provide photos like these because they really are a great resource to supplement our game Fish Lake. These photos really help bring the game to life. This photo, previous historical photos that we've shared, and others can be found on our Fish Lake Photos website page. There you can find great photos of Native American life provided by the Library of Congress website. Feel free to head over to our Fish Lake Photos page and the Library of Congress website to find more Native American life photos to use at home or in your classroom.
You can also find other great teacher resources for our games on our Teacher Resources page. There you'll find powerpoint presentations, videos, activities, links and more that you can also use in the classroom, at home or for any other educational need.
Our 7 Generation Games Teachers Pay Teachers site has really great educational resources as well. We also have great math videos on our 7 Generation Games Teacher Tube. We know how hectic life can be for educators, so we try to help out by having great teacher resources on various sites for your benefit. So check us out on Teachers Pay Teachers and Teacher Tube too!
Have a great weekend and come back next for another Freebie Friday!
---
Check out the game this freebie comes from, Fish Lake!