To anyone questioning whether "this VR thing" is going to get bigger/stick around, all signs at the Game Developers Conference 2016 point to yes. Actually, given what I saw at GDC, it's more of a YES! If the looming Oculus installation when you walked into the expo didn't hammer that point home, I don't know what would. Maybe the huge Playstation VR exhibit next to it. Or seemingly infinite other examples of VR games and hardware on display.
But I would argue for the average user, it's not going to be something that is happening tomorrow. I think that is worth pointing out because when you go to an event like GDC where everyone is SUPER into gaming – and at the forefront of the industry – it can be easy to forget that "most people around you" is not rarely the same as "most people in the world."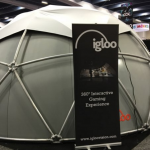 I didn't check out what I'm sure are the best-of-the best things (based on the super long lines) that Oculus and PlayStation are up to when it comes to VR. But I did try out a couple of headsets, and I'm not going to lie, I still think Google Cardboard holds up. No, it's not nearly as cool as the 360-degree Igloo or Birdly, where you're flapping your arms and the wind is blowing in your face.
However, the DIY box version of VR is far more accessible, affordable and still largely untapped, which is significant because it's something we're
looking at incorporating with upcoming projects. The reality of virtual reality is that while the full headset VR is cool in game circles, schools (and even many consum
ers) are going to be a LONG, LONG, LONG way off from adopting it -or any future variation of it.
What I think we can do at 7 Generation Games is look for ways to incorporate elements of VR in a way that schools or the average kid playing at home (who isn't going to have a headset) might actually use it. Keep an eye out for that in our future.