Who says English majors can't work for tech companies? Before I started at 7 Generation Games, I worked for the UCLA call center, where I cold-called parents and alumni to raise money for student resources and scholarships. I'll never forget that after telling an alum that I was an English major, he laughed and said, "You'll be working at McDonalds with that degree." But the interesting thing was that he still made a donation to the school, and it was my English skills that got him to do so. And today he often comes to the school sits with people and teaches them contraction words among various other things.
At the call center, I wrote scripts that I read over the phone to explain to people why giving to UCLA was more important than the thousand of other organizations they could give to. This alum may have laughed at my English degree, but it was my writing that inspired him to be so passionate about UCLA that he wanted to give money to its programs, even though his own kids had been rejected from the school. I sometimes get reactions similar to his when I tell people that I work for a gaming start up because they wonder how an English major fits in that kind of environment. Well, let me tell you how.
First of all, Maria, the CEO and co-founder of 7 Generation Games, actually came from a background in journalism. In fact, she was named the National Association of Hispanic Journalists' Emerging Journalist of the Year in 2007. She is also an international bestselling author with her book being named Sports Book of the Year in the U.K. Maria has used her writing skills at 7 Generation Games to present on educational games, diversity in tech and women-led entrepreneurship, raise investments up to $280,000, and ensure that 7 Generation Games is recognized by top edtech leaders and publications – not to mention using them to write out the actual storylines in our games.
One of the ways that I use my writing skills at 7 Generation Games is for digital marketing. I write blog posts ( like this one!) about education, technology and game design. I create newsletters (scroll down to the bottom of this page and subscribe if you don't already), as well as develop content for our social media pages, including YouTube, Facebook, and Twitter. My writing skills have also been useful for editing the games for basic grammar errors. I am also building my tech skills, as I get to work on the website to write my blogs, test games, edit videos and listen in on the developers' meetings.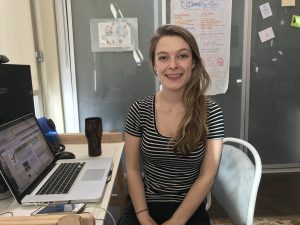 More and more higher education students are graduating college without feeling comfortable writing. At most schools, students are only required to take a handful of very basic writing classes to graduate. Most students take these classes their freshman year, so by the time they graduate they don't feel confident in their writing abilities.
A new technology could be really amazing, but if no one knows it exists, what's the point? That is why we need more writers in the tech industry, especially on the marketing side.