If you follow us on social media, subscribe to our newsletter or read our blog, you may have seen that we are currently in the middle of a community round with WeFunder. Then again, maybe you do all of those things, and you haven't.
A few years ago, we were doing a Kickstarter campaign and were plastering the information everywhere – or so we thought. A lot of people backed us – from folks we knew really well to people we didn't know at all. (Thanks to all who did!) But after the campaign ended, AnnMaria noticed that a really good friend she had expected would be a supporter hadn't backed us at all. Because she isn't the type to brood in silence (understatement of the year), she asked him why he hadn't. "I didn't even see it," he said. "Otherwise, I would have!" We made a point to directly reach out to him when we launched our WeFunder, and we're thrilled that he and so many other friends – both those we have met and some who might just be friends of ours in the Facebook sense – have already invested in our WeFunder campaign.
That said, we are making a big push to get as many of our friends – whether we know you socially or social media-ly – to invest in our WeFunder before "Friends Invest First" ends on June 30. After that, our campaign becomes public.
Getting as many investors as we can before the "Friends Invest First" phase ends is significant because the more people that invest before the public launch, the higher 7 Generation Games will appear in WeFunder's search results.
The concept of "Friends Invest First" comes from this concept of a "friends and family" round on the traditional investment (i.e. community round) side. The idea behind that being that before you go to investors asking for money, investors want to see that you were able to convince those around you to believe in and support your idea financially. (For the purposes of this as an informational blog post to urge you to invest in our WeFunder, I will not digress into the flaws of "friends and family rounds" and how it plays into the funding inequity that exists in the startup world.)
In order to best position ourselves for community round fundraising success as we come off this "Friends Invest First" phase, we are asking as many of you who haven't invested and have the ability to do so for as little as $100, to please consider doing so. And if you've been meaning to and put it off, NOW — before July 1 – is a perfect time. (You'll also get in under the Early Bird Terms which mean you get a better deal.)
To answer a few quick questions that I've gotten about the "Friends Invest First" period that I wanted answer before it ends:
What does WeFunder's "Friends Invest First" period mean?
Imagine it kind of like YouTube – where a video can be public (where anyone who is looking on YouTube can search and see the video) or unlisted (where anyone who has the direct link to the video can watch the video, but it doesn't come up if someone searches for it). During WeFunder's "Friends Invest First" period, our 7 Generation Games campaign page is basically unlisted – so anyone with the link can see it, invest and share it with other people. Once we launch publicly on July 1, the page will be public and searchable for anyone to see it (like a public YouTube video).
Sticking with that YouTube analogy, how we rank based on the site's algorithm (basically a formula that determines whether you should show up higher or lower in search) matters because the easier we are to find and the higher we come up in search, the more people we get looking at us to invest. So getting as many investors as possible in the next few days to get our investor count as high as we can matters. (Don't think your investment won't matter, because it will.)
Can I share the link with my friends to invest in "Friends Invest First"?
100%. In this case, your friends are our friends. Same goes for your acquaintances, colleagues, family members, neighbors – anyone who you think might be interested in investing can definitely invest in 7 Generation Games during the "Friends Invest First" phase. Please share the link far and wide. It really takes a community to raise a community round, so we're incredibly grateful for anything you can do to help us get the word out.
Can I invest after the "Friends Invest First" period?
Yes. If you can't or don't invest during the "Friends Invest First" period, you can still invest once the campaign is public. Again, we're trying to get everyone who can to invest as early in the process as possible – especially as we come up to our public launch date on July 1 – to get as many early investors as we can. But if you can't invest until after July 1, you can still invest!
What are "Early Bird Terms" and are they the same thing as "Friends Invest First"?
"Early Bird Terms" are something else common in accredited (i.e. non-crowdfunded) investing. As the name suggests, early bird terms reward the early investors in a company's fundraising round with slightly better terms than investors who come on later in the process. Whether you invest early or later, you are still an investor – but early bird terms incentivize and reward those who come in early. Like "Friends Invest First" early bird terms won't last forever, so they're one more reason to invest early as in ASAP!
To stay on the good side of the SEC, we direct you to our WeFunder investment page to see the full terms of our community round, including our early bird terms.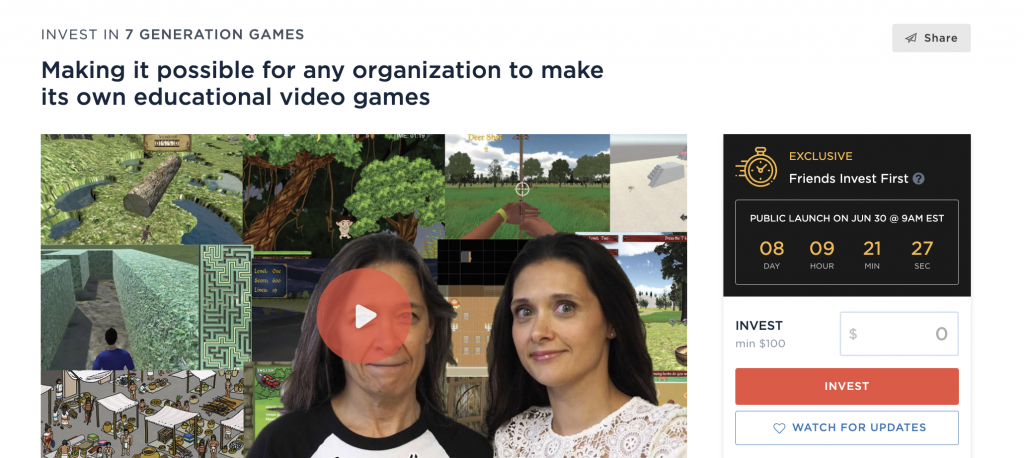 Testing the waters legal disclosure: We are 'testing the waters' to gauge investor interest in an offering under Regulation Crowdfunding. No money or other consideration is being solicited. If sent, it will not be accepted. No offer to buy securities will be accepted. No part of the purchase price will be received until a Form C is filed and only through Wefunder's platform. Any indication of interest involves no obligation or commitment of any kind.