In our travels throughout the country, we constantly seek feedback from teachers and students on what they like about our games and what additions/improvements they would make. Dr. AnnMaria De Mars recently stopped by Ojibwa Indian School and Tate Topa Tribal School, located in North Dakota, to test our games and talk with the students.
The kids didn't hold back with their opinions, giving us pages upon pages of ideas they want to see in future updates and new games. Some of the most popular items were:
– Make a dream catcher
– Traditional Indian dances
– Fishing in canoes
– More animals
– Make quilts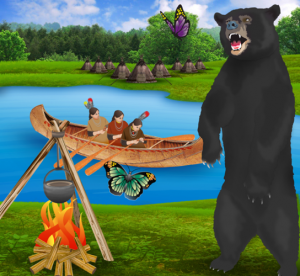 We value the opinions of our users, no matter the age. We strive to make video games that are informative and educational in addition to being fun and entertaining. Keep an eye out, as you just might see some of these ideas pop-up in future updates to our games!
Don't forget that for a limited time, you can
purchase or donate
our newest game, Forgotten Trail, for just $4.99. That's about the same price of a fancy coffee drink!