Everyone at 7 Generation Games is so excited to welcome Vlak, our new graphic designer from Chile, to the team! In case you haven't heard, each week I will interview a new staffer for my Facebook Live Friday series. Since Vlak is working with AnnMaria in Chile, I won't get the chance to chat with him in person (unless Maria and AnnMaria want to fly me down as an early graduation gift). But don't worry, you can read all about Vlak in this blog post!
AnnMaria has been busy in Chile making our games more accessible to a Latin American audience. To make her life easier, she wanted to hire a graphic designer that could help her update our Spanish website, and Vlak was the perfect fit for the role. While Vlak currently lives in Santiago, Chile, he was born in Caracas, Venezuela. He became interested in design after taking a short course in high school and hasn't stopped designing since. After studying graphic design in depth at Jose María Vargas University, he knew that he wouldn't be fully satisfied spending his life doing anything other than design. To make a long story short, he fell in love with the field. Vlak also spent time outside of school expanding his knowledge in all areas of design even further on his own.
Check out his wireframe for our Spanish website below.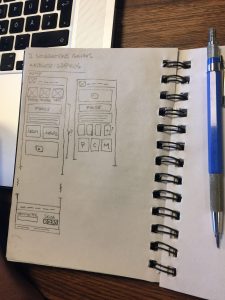 Vlak wanted to work for 7 Generation Games because he couldn't miss the opportunity to be a part of Start Up Chile. He was also up for a challenge as his first job was in game development and he wanted to see what he could recall after all those years. Turns out, he remembered a lot! Vlak is excited for the launch of our Spanish website. "It makes me feel really good knowing that parents, teachers and kids from different countries will experience what I'll do."
Vlak hard at work!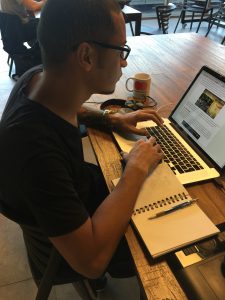 Vlak's role at 7 Generation Games won't stop there. He is also looking forward to designing illustrations and graphics for our next game, which will incorporate Chilean culture and traditions. "Working on the game excites me because I'll expand my illustration skills and learn a lot about my new home."
He is also designing cat characters for the winning cats from our cat contest.
Here's a fun fact about Vlak: he gives nicknames to all the important people he meets so he won't forget them (I wonder if he has a nickname for AnnMaria yet).