I did my first Facebook Live Friday with our Project Manager, Diana, last week. By the end of the day, the video had over 200 views (Diana, we're famous)! Missed the interview? Don't worry, you can still get to know Diana by reading about her below.
Hannah: As Project Manager, what does a typical day at 7 Generation Games look like for you?
Diana: My daily activities look completely different each day. My work varies from creating newsletters, following up with schools, sponsoring edcamps, helping us hire new employees, processing pay roll, developing and testing games to anything related to project management.
Hannah: How long have you worked for 7 Generation Games?
Diana: Almost two years. AnnMaria does judo for a middle school that my brother volunteers at. Her and Maria were looking for an administrative assistant and I guess the applicants they were getting weren't the best. AnnMaria asked my brother what I was doing. I applied and here I am-from that to project manager.
Hannah: What is your favorite part of working for 7 Generation Games?
Diana: I like how it's unpredictable. One day I could be doing newsletters and reaching out to schools, but another day I could be going to an actual conference.
Hannah: Outside of work, do you have any hobbies?
Diana: I love going to concerts, they are my thing. We have a calendar that I put up so people know about meetings and deadlines. I don't usually put anything personal on there, but last July I had so many concerts in that one month, that I put my concerts on the calendar so I wouldn't forget about one. It was funny because Maria started reminding me what days I had concerts.
Hannah: Can you tell us a fun fact about yourself?
Diana: I have an eclectic taste in music. I could be listening to Korean pop one moment and Bollywood music the next.
Hannah: Another fun fact about Diana is that she has a headband for every holiday.
Diana: I take them very seriously.
Eddie, wearing Diana's headband on Saint Patrick's Day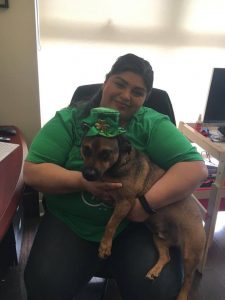 Enjoyed this interview? Stayed tuned for my Facebook Live video next Friday! Each week I will interview a new staff member of the 7 Generation Games Team (I might even feature Eddie one week).