Living in the United States, Hispanic Heritage Month has always been a month of celebration that you start hearing about in school when growing up. I knew it coincided with Mexican independence day and the independence day of many hispanic countries in Central and South America. We would have small parades while in elementary school and cultural assemblies in middle and high school. Then by mid-October that was it, it was over. However, for me, and many hispanics, hispanic heritage is something that I always celebrate year round. 
It's in the language that my parents made sure to keep alive. I still remember growing up and hating when my mom would say, "En español, él entiende español" whenever I would be talking to my brothers in English at home. One rule my mom had was that we could only speak Spanish at home. We learned and spoke English at school but while at home we were only allowed to speak Spanish. As a teenager, of course, that was annoying but now as an adult I thank my mom for doing that. For not letting us miss out on an important part of our culture. 
It's in the music that we listen to. There are so many artists that I listen to repeatedly and that I love because of my parents. It's the Spanish music and artists that they listen to, and that we grew up on, that was some of the first music that we ever listened to. Artists like Juan Gabriel, Los Bukis, Los Tigres del Norte, and Vicente Fernández to name a few. I've written about the impact of these artists in my family's life for assignments in school. This year alone has been very evident of that connection to my culture and heritage through the music my siblings and I love, because of our parents, when we were able to see Los Bukis live on August 27th at SoFi Stadium in Inglewood, CA.
In case you don't know and to provide some chisme, Los Bukis are a Spanish music group from the state of Michoacán in México, where my parents are from, that split up 25 years ago without any chance of ever getting back together – because you know, "lead singer wants to go solo" drama. My parents are not really concert-goers so concerts weren't something we did growing up. Now as an adult, I love concerts but Los Bukis was never an artist I thought I'd get to see live. However, they reunited in 2021 and went on a reunion tour in a few cities in the U.S. To be able to say that I, along with 70,000 other fans, saw them live is a huge deal and seems surreal just because of the history Los Bukis hold in our family and the Hispanic community.  
It's in the food that we eat. No doubt we celebrate our hispanic heritage year round in the food that we eat! It'd be a shame to limit Mexican food, especially my mom's cooking, to only one month of the year. It's the tacos, mole, tamales, pozole, carnitas year round that add, literally, the flavor to life. Recently, due to the pandemic and quarantine, I've realized the importance of learning these recipes in order to keep that part of our heritage, like with the language, alive. I could go on and on about the dishes that my mom has made for us her entire life, but I'd rather just drop some pictures below from the book I made for one of my child development classes a few years ago. Sorry if it's not lunch or dinner time where you're at and you end up hungry.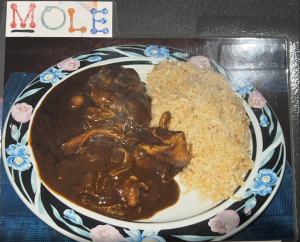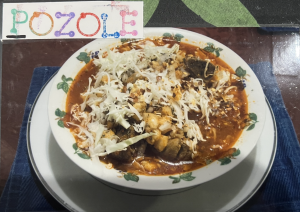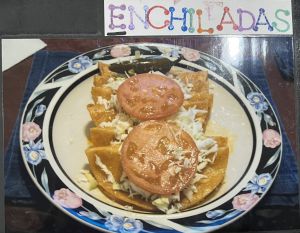 Making that book was fun because I had to think about things in our culture for every letter of the alphabet, plus it was great seeing my mom enjoy and take pride in making the food she loves for an assignment I had.
There are so many other ways that we celebrate our hispanic heritage that I didn't touch upon like our customs and traditions. Playing lotería at family parties, watching the Mexican National team play fútbol, celebrating quinceñeras, and simple things like the sobremesa which is basically just hanging out at the dinner table after a meal. Sobremesa is actually something so hispanic that it doesn't have an English translation. Basically, hispanics celebrate hispanic heritage as we eat, breathe, and live. So I see Hispanic Heritage month as an opportunity to highlight our community and share our heritage and culture with others, but know that the celebration doesn't end once October 15th comes around.