Our last "teacher feature" starred 7th grade English teacher Tammy Green,recognizing her for all of her hard work. This month, we are spotlighting second grade teacher Samanntha Davis for the amazing energy she brings to her students each and every day. Samanntha was nominated by her mom, Paula, who sent us this adorable picture of Samanntha with her students.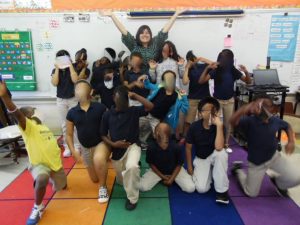 Samanntha has her B.A. in elementary education from the University of Missouri – St. Louis  and her M.A. in reading from Grand Canyon, where she graduated with highest honors. From a young age, Samanntha knew that she wanted to specialize in education. In fact, she realized her passion for teaching after tutoring students in high school. From then up through today, she has managed to make a difference in many student's lives. Currently, she works with inner city kids, teaching second grade and working as a reading specialist at Confluence Academy in St. Louis.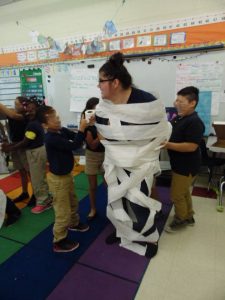 Samanntha is dedicated to helping her students outside of the classroom as well as inside. She has taken on the responsibility of planning school assemblies, where she brings her warm spirit and positive energy to ensure that her students have fun. Samanntha is also always there for her coworkers whenever they need her.
"Samanntha is always willing to help others, whether student or staff, and leaves hearts warm and laughing wherever she goes," says Paula.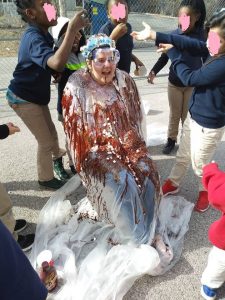 Samanntha has dreamt of spreading her love for teaching and desire to make learning fun outside of her own county. Looks like Samantha has a lot in common with AnnMaria and Maria. (If you haven't heard, AnnMaria is in Chile and Maria just got back from Trinidad). Samanntha's goal is to teach overseas and visit countries to mentor students who need help the most. Samanntha is currently raising money to help make her dream come true and teach overseas. While her first destination is Italy, it won't be her last stop! Throughout her life, she wants to reach as many students as possible.
Here's to Samanntha – and all the other dedicated, enthusiastic, difference-making teachers like her!
Know a great teacher like Samanntha? Tell us about him/her and he/she will  be featured in our newsletter as well as receive some cool 7 Generation Games gifts. You can nominate a teacher through our contact page or by emailing info@7generationgames.com. 
We've found that teachers are modest, and their colleagues usually say nicer things about them than they do about themselves. We take nominations from principals, colleagues, teachers, students, relatives. Think your mother, father, wife, husband, brother, sister who is a great teacher doesn't get enough credit? Nominate them today! When sending info on her our way, please include their email because, if selected, we will contact the featured teacher before running the piece to make sure it is accurate.