Video games have taken over the world of teaching, leading to the emergence of the term based on the game that increases the motivation of the students, which favors that they want to play on a regular basis.
Video games not only help us to understand or specifically exercise skills,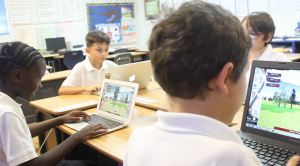 They promote the development of certain human capacities and needs without our noticing.
They favor our capacity for analysis and reflection.
We improve our response speed and mental agility.
They promote the development of the imagination.
They favor our ability to analyze information.
Video games are an important educational tool, however, investing an excessive amount of time can end up being counterproductive. This is why educators must control and help make the educational capacity of video games 100% effective.
Have a good time while you learn with Making Camp: PREMIUM!

Recommended Grades 3- 5
Math: Multiplication and Division
History: Ojibwe (Chippewa), Plains Indians
English: Idioms, synonyms, antonyms, homonyms, homophones
Our most-popular game expanded! Get three times the content of "Making Camp Ojibwe" in this fun and interactive app. In "Making Camp Premium," players practice multiplication and division skills while learning math problem-solving strategies. They'll also be introduced to Native American history. PLUS get the completely new words challenges section, an activity randomizer and more. Customize your virtual wigwam inside and out. Earn points by solving math problems, learning about language arts and answering social studies questions in the village-building simulation game.
Take a look here:
Download today making camp premium here: