Start-up life can be a little crazy. No, make that a lot crazy. We incorporated as a business in 2013, making us middle-aged in start-up years. When start-ups die, they often just fade away. You see people at fewer meet-ups, get fewer emails or social media posts trying to entice you to check out their product.
Sometimes, the start-up is reincarnated and that same person you ran into last year who had a parking app this year has an app that does something with printers. I believe we call this serial entrepreneurs.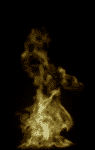 Tonight was the first time I saw a company spontaneously combust.
We have been doing business with the ecommerce site, Kagi, for years. Even before we founded 7 Generation Games, we used them for Fractal Domains, a program that creates fractals for the Macintosh. (Random: If you are very much into math, you may be thinking our parent company, The Julia Group was named after  the Julia set of fractals. Nope. Our DAUGHTER was named Julia after the same mathematician as the Julia set. Yes, we are that into math. The company is named after our daughter. )
Anyway, daughters named after nose-less mathematicians aside (yes, he was, look it up) the craziest thing happened today.
Kagi closed down with 0 days notice. Yep, the last sale we had through them was at 5:21 pm and at 6:09 pm we received an email saying that
"It is with sadness that we announce Kagi has ceased operations as of July 31st, 2016."
I'm sure there is a story behind it that we'll hear sooner or later. I can't even get mad. Their business failed. Anything I'd do would add insult to injury.
You may be wondering what about our company, either because you invested money in us (understandable) or because you love us (also understandable, and thanks).
We're pretty much fine. In a very random coincidence, we received our last check from Kagi on July 20th and that day we started a 90% off sale for 11 days because we wanted to encourage people to download the games and give us feedback in time to make improvements before September. We assume our payments will be somewhat delayed but because of this coincidence the payments will be 10% of what we would normally be owed.
Spirit Lake and Fish Lake can be purchased on Amazon as individual licenses.
We didn't have Forgotten Trail set up to be purchased on Amazon yet. Gonzalo will be right on that in the morning, since it's 1:14 am and I'm just about to send him an email.
School and classroom licenses can still be purchased by check, which is how most schools pay.  If you need assistance, please email info@7generationgames.com
Since we didn't read the email at exactly 6:09 pm, being out to dinner with above-referenced lovely daughter, we probably won't have a new purchase page on our own site with all of the options set up for a day or two. Dennis started looking into other ecommerce providers but after this experience I'm leaning toward just setting up our own page to take orders and connecting to Paypal or something similar.
Fortunately, the new app versions of Making Camp coming out will be distributed through iTunes and Google Play, so an ecommerce site won't be an issue.
So, yes, we are fine but I have to wonder how many companies had a lot of orders through Kagi and are now waiting who knows how long for payments.
Isn't that wild, though, that you do business with a company for years and then get an email from them that says,
We are sorry to inform you that we will be going out of business – NOW!
No, not us, that was Kagi. We're still very much in business.
Go buy our games on Amazon! Later this week, you can buy them here again.