There are a lot of days in the year — at least 365, in the case of this year, 366. And yet, it seems like everything in my life always ends up being scheduled on the same day.
I'm not talking about Saturdays – if you've got kids, you just accept that basically, you'll never have another Saturday free ever. I'm talking about random Thursdays.
Here's what I mean: The book I co-wrote is up for "International Sports Autobiography of the Year," so I am going to London where they're having an award gala. I will likely be home on June 2, but probably not until the evening because London is a long way from L.A. (We're also working on setting up a meeting with a school or two to demo 7 Generation Games – so if you're a school in London, hit me up!) Well, of course, it turns out that June 2 is the day of my daughter's drama club's performance of "The Wizard of Oz," which I wasn't too choked up about missing because she was playing one of the munchkins and had one line. (True, there are no small parts, only small actors – but look if I'm going to miss something – and given my best efforts, I occasionally have to miss something – being absent for her declaration of "Follow the yellow brick road" is unlikely to have a lasting impact.)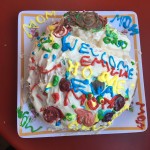 But, of course, I come home from my last business trip – to an amazing "Welcome Home!" cake – and a flyer informing me that my daughters' dance recital mandatory dress rehearsal and pictures are guess when? June 2. At the exact time of the Wizard of Oz. Not only that, but this requires the one thing that my husband – who expertly manages things when I am away – needs a teeny tiny bit of work on, which is doing hair because these pictures require a specific hair style. And of course, when I first looked at the date for this trip, I thought, "Great, it overlaps with nothing."
I'm speaking on a gaming in education panel on Thursday evening for that very reason. When I was invited a while back, I said, "That's a perfect day, I've got nothing then." Now, I'll be rushing from that panel to the airport to take a red-eye to New York because later turned out that I've got to be in Manhattan the next day for some meetings and the Games for Change Arcade as part of the Tribeca Family Festival Street Fair.
It's kind of like a scheduling variation of Murphy's Law: Anything where it would be easier if it wasn't scheduled on the same day, will be scheduled on the same day.
Although, my schedule has been getting increasingly busier as our company keeps growing and since I added a third kid into the mix, this is not a completely new phenomenon in my life. For example, last year, my oldest daughter did after-school Spanish club, dance class and soccer. (It's rare that she encounters an after-school activity that she doesn't want to try out.) Oh yeah, and all three activities, ended up being schedule for Wednesday, like there were no other days in the week.
When it comes to work, it's no different. I recently told my assistant to put a hold on scheduling anything more for the third week in June, because right now, I'm looking at potentially needing to be at two conference in two states on the same day. (And just the other day someone asked if I might be able to present at another event that week!) Yet, right now, aside from being in London and that triple-conference week the rest of June is wide open. Same goes with a double-booked date in July.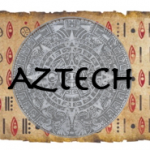 You don't have to be a Ph.D.-level statistician like my 7 Generation Games co-founder (although having at least a 6th through 8th grade level of statistics knowledge like our upcoming game AzTech covers is helpful) to recognize the pattern of days where everything seems to be scheduled at once are highly likely to continue – even if it seems contrary to what the odds are of an activity/meeting/dance rehearsal/Wizard of Oz production being scheduled on any given day.
I always say it's better to be busy and have a lot going on as a startup than it is to have everything stalled be floundering – but I wouldn't be opposed to some of those many things being on different days.