We've been grinding away here at 7 Generation Games, both on our WeFunder campaign as well as growing 7 Generation Games. But we wanted to try our best to keep you in the loop on how that's going. 
In less than a month from publicly launching our WeFunder campaign, we surpassed the minimum needed for our community round to be viable! We needed to hit $50K, and we ended our first month of our campaign at over $60K – and we're still climbing from there. Not only that, but we're more than halfway to maxing out our early bird terms.
So if you were thinking of investing – now's a great time to get in!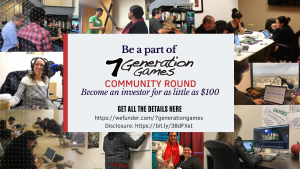 And you'll be in great company! In fact, we not only hit the fundraising minimum, but we already have over 100 investors who have invested in 7 Generation Games community round. Having so many early supporters investing in our work is thrilling and humbling as we work to scale 7 Generation Games. 
Speaking of early, our early bird terms are more than halfway filled, so if you're a potential investor reading this update thinking about investing or a current investor who knows folks who might be interested in investing, there's no better time than now! 
Plus, WeFunder's algorithm also ranks campaigns higher based on the more investors they have, and as community rounds thrive on visibility, it's incredible to see the support we're getting help push us the higher.
We'd love to have you as one of those investors – and we'd also if you could help us by further sharing about our community round within your networks to help us get the word out even more widely about 7 Generation Games and our WeFunder campaign.