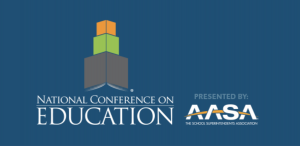 Are you going to the National Conference on Education next week? So are we!
If you'll be attending NCE, please stop by our table in the exhibit hall: Booth 610. We'd love to meet you – and show you all the amazing things we're up to as we work to create better educational software to teach math and history. You can try our games out for yourself as we'll have a bunch of our games on a bunch of devices available to play. 
During the conference, take a break from the general sessions or squeeze in a visit in between workshops to say hi. AnnMaria is especially excited to check out some of the sessions herself, so she'll be both at the booth as well as roaming around and learning lots.
Not familiar with the National Conference on Education presented by the AASA, The School Superintendents Association? If you don't know about the AASA, then read more about them and their annual conference. This year's conference is being held at the Los Angeles Convention Center next week (we love it when events are in our hometown!), February 14th-16th. We'll be exhibiting on Thursday and Friday.
We look forward to seeing you!
---
Keep up with what we're up to and subscribe to our newsletter today!