On the seventh day of the 7 Generation Games Christmas Countdown, 7 Generation Games gave to me…
AzTech: The Story Begins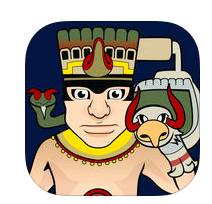 In AzTech: The Story Begins, players will find themselves whisked back in time – where your chance of survival is only as good as the math skills you develop! Success will depend on tackling fractions and solving middle-school statistics challenges. If you're looking for great resources to help your kids, the first chapter of the AzTech Games series is a great place to start! (Recommended for Grades 5-8.)
This game is also fully bilingual, meaning your kids will be able to switch between English and Spanish in every single page within the game, including text, audio and video content. How cool is that?!
You can choose between the web version and the mobile version for iPad and iPhone! (or both!)
Did you miss Day 6 of our countdown? That's okay, check out Day 6 of our Christmas Countdown here.
Don't forget to check back here daily for more gifts from us to you, or follow us on Facebook, Twitter or Instagram to get in on the holiday cheer!