It's that time of the week again. You guessed it, it's time for another Freebie Friday! Today's freebie is from Spirit Lake and it's a powerpoint presentation and pdf on probability. The ppt and pdf are an introduction to probability, probability 101. The material teaches you what probability is and gives you a couple of examples on probability. To view and download the ppt or pdf, then click below.
PROBABILITY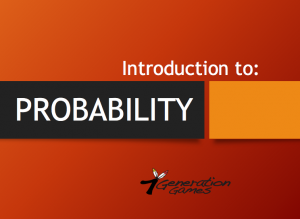 We provide resources, like the one above, for Spirit Lake on the Spirit Lake Teacher Resources page. You can find teacher resources for our other games as well on their respective teacher resources page. Look for them under the Teachers tab on the menu at the top of our website.
At 7 Generation Games, we care about providing these teacher resources to educators in order to complement the content in our games even when our games are not being played. Which is why we offer various resources for teachers such as videos, vetted links, historical photos, and more. So feel free to use these teacher resources in the classroom, at home, on your educational blog, or any other educational need you may have. Take advantage of really great materials!
Speaking of really great materials, have you seen us on Teachers Pay Teachers? Don't know what that is? We explain what TpT is and some of the feedback we've received. Our 7 Generation Games Teachers Pay Teachers site has really great educational resources as well. We also have great math videos on our 7 Generation Games Teacher Tube. We know how hectic life can be for educators, so we try to help out by having great teacher resources on various sites for your benefit. So check us out on Teachers Pay Teachers and Teacher Tube!
Have a great weekend and see you next Friday for another Freebie Friday!
---
If you haven't seen Spirit Lake in a while, you're in for a treat. Spirit Lake is 100 times better than before. Buy and experience the improved Spirit Lake today!