You are supposed to individualize instruction. We all know it. In some cases, when students have special needs, we are legally required to do it, have meetings about it. Yet, it's difficult when you have 40 students in a class. Or maybe you only have 20 students but one is homeless, one has autism, one has a parent who is addicted to meth and is living with Grandma, one has Fetal Alcohol Syndrome and 15 are anywhere from one to four years below grade level.
Here are 4 ways our games can help.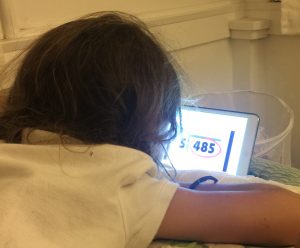 Enrichment for advanced students – that one child who is far ahead of the class, instead of giving her more worksheets to do after she finished her math assignment for the week and having her come home saying that she hates math (yes, this really happened), say, "Great job! You can play these games on the computer!"
Individualized instruction for students with special needs– you have a student in your sixth-grade (or seventh-grade or ninth-grade) class who has not mastered multiplication, or fractions, or sixth-grade statistics standards. You know from your special education courses (if you took it from me) that you want to do something that is age-appropriate. What could be more age appropriate for middle school and high school students than video games? Take a look at the image below from Fish Lake and you can see that this is not a "kiddie" game. 
In remedial classes – maybe your whole class is a remedial class. Let me recommend Fish Lake, Spirit Lake and Forgotten Trail for middle school through grade 10. Making Camp covers the same math concepts as Spirit Lake but it has a younger look, so I would recommend that for grades 3-5 (maybe grades 6 or 7 – you know your students so you should decide).
As a reward – maybe this isn't as much individualization but maybe it is. Different students like different things. Spirit Lake is an adventure game. Making Camp is more of a collector game. Students can choose what to play, both by type of game and difficulty level. Whether because your whole class was on task, because they all passed a math test or just as a reward for any particular student, being allowed to play our games is a reward (come on, compared to reading a math textbook and writing the answers in your notebook, it totally is).
---
You can find our games here. Starting at free (!) up to under ten bucks. Check them out and get smarter!