Yá'át'ééh! Welcome to the official Launch Day of Making Camp Navajo!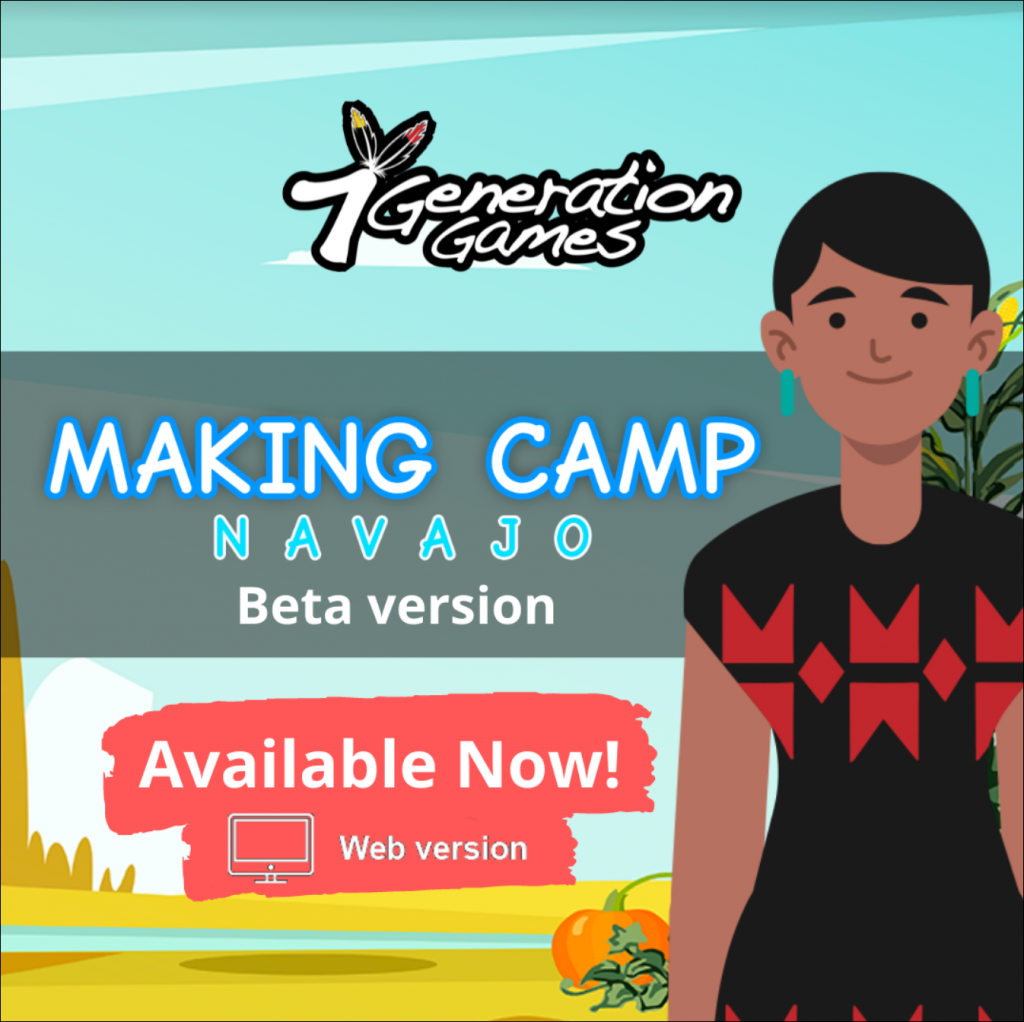 We've since come a long way from the simple drafting stages to a math game with nearly all parts assembled! Our beta launch could not come soon enough. Our design team, led by Maria Burns Ortiz, had met every week to continue building upon elements of the game. We needed extra art, research and script writing along the way–in developing any project, but especially a game, nothing truly feels finished. All culture modules were developed by the design team.
Meanwhile, AnnMaria De Mars and Dennis De Mars led development of Making Camp Navajo programming, with AnnMaria leading the math lesson modules within the game.

Diana Sanchez and Daniel Mondaca worked hard on marketing campaigning for the video game, in organization to creating the calendar, to the social media management.
Let's get into Making Camp Navajo and explore with the flock. (Yes, sheep do explore. They have their own favorite areas to graze.)
Gameplay
Play Making Camp Navajo in a web browser of your choice, whether it's Google Chrome, Mozilla Firefox, Bing or Safari.
Play on a PC, Mac, Chromebook, phone or tablet.
Players create a username and password to sign for a free account and save game progress (as is the case for all our games we offer).
Educational features
Standards-aligned: The game is aligned to both state and national standards for 7th and 8th grade math, history and social studies.
Cross-curricular subjects: While the main math topic is on ratios and proportions, this is cross-curricular with Navajo history and social studies and agriculture.
Hint buttons: Extra help is provided for math learners.
Gamified learning: Students earn points as currency, which can be used to furnish a hogan, or traditional Navajo dwelling.
Growing Math: Making Camp Navajo is included in the lineup of free Growing Math games for eligible educators. Registration for training is open. Just click here.
Fun facts
Three Navajo culture and education consultants are credited as part of the Making Camp Navajo design team: Albert Brent Chase, Geneva Johnson, and Michelle Whitstone.
Jeremy D. Arviso is the digital artist of the desert landscapes and characters.
The voice actor for Rose Nez, the main character, is Christy Hanson, who is from the Navajo Nation. They even share the same clans.
For research, Christy returned home to the Navajo Nation to visit the family flock and herd sheep at her grandma's sheep camp. Her favorite sheep is named "Fuzzy." Others include Michelle, Maybelline, and Molly.
Christy decided to learn to play the Native American flute for music in one part of the game, still to come.
Future developments
Bilingual version: The Navajo/Dine' bizaad language version of Making Camp Navajo is coming.
Voice acting: A call for Dine' bizaad voice acting is also in our future.