In our game, Making Camp, players get to create their own virtual wigwam while learning math and social studies. The game also includes videos that focus on math terms and problem-solving strategies, areas that teachers and parents say students need extra help in. Making Camp features cultural videos that teach students Native American history, specifically about Ojibwe culture, as well.
Making Camp was named the No. 2 app by Educents in its "Top Apps for Kids" guide in 2017. We have been continuously updating the game since then to make it even better. In July, we made a bilingual version so the game could be used for Spanish-speaking students and for those who want to expand their Spanish vocabulary.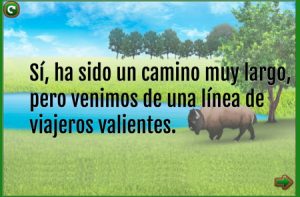 Recently, our developers Adekola and Gonzalo made the game available on Android phones. The game can also be played on Android Tablets as well as Mac, Windows, Chromebook, and iPad, but we got so many requests to make a phone version that we got right to work. Stay tuned for this new version, coming soon!