When it comes to teaching multiplication, I believe several things are important, some because they help students learn and others because they make the learning more pleasant. Don't underestimate the latter. First of all, students are in school for much of their waking hours, other things being equal, why shouldn't they enjoy their time, or at least not dread it? Second, if students are miserable, they are most likely going to find a way to make you miserable. Having students engaged in the task at hand is one of the keys to classroom management.
For students to learn multiplication, I believe repetition is important. I also think you need variety in your teaching. One way to do that is to have centers that students rotate among every 15 to 30 minutes. I say 30 minutes because that includes time cleaning up at one center and moving to the next. If you teach the whole class rather than groups, then I think it's important to switch up every 20 minutes at the most. Lecture for 10 minutes while writing on the board. Have students do something like play a game for 20 minutes. Go back to explaining, this time using a PowerPoint and a short video. If you are saying, "Right! Where am I going to find the time to make those videos and presentations?" have a couple from us, free. )
What's important in teaching multiplication
Repetition leads to memorization.
There is absolutely nothing wrong with having SOME rote memorization in your curriculum. I would say 10% is probably a good amount. You need to memorize multiplication tables, spelling words and a few other things.
Games for teaching memorization
Making Camp Ojibwe includes several sections for practicing your multiplication tables. The multiplication dog uses recall memory, that is, players need to recall the answer. Students are given a problem like "What is 6 x 9?" and if they answer correctly, they get a dog. Each additional correct answer provides an item for their dog.
A second game using recall memory is tic-tac-toe, where each correct answer snares a rabbit and each incorrect answers ends with an empty snare.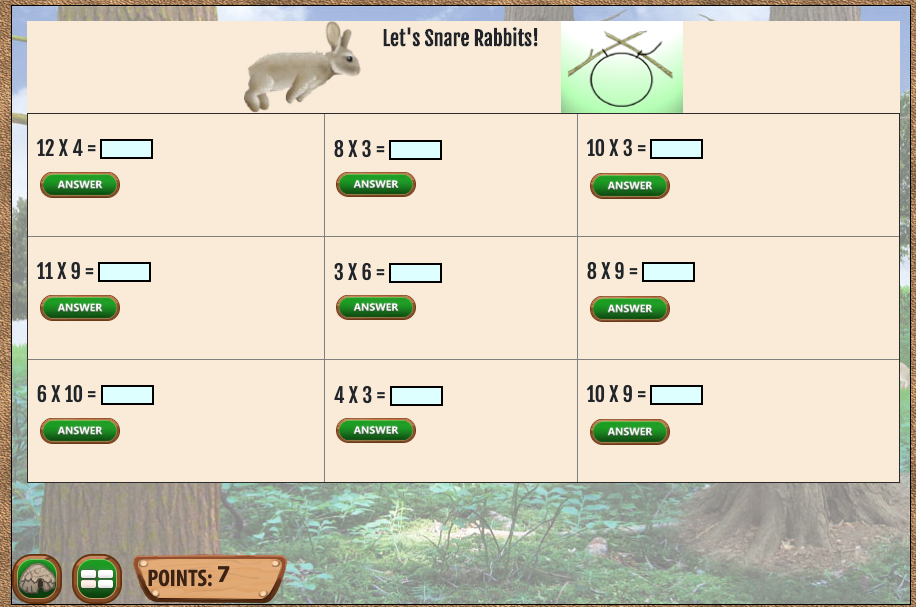 There are a three more sections of Making Camp Ojibwe that teach through recognition memory, where students play a memory game or one of two matching games and simply have to recognize the answer.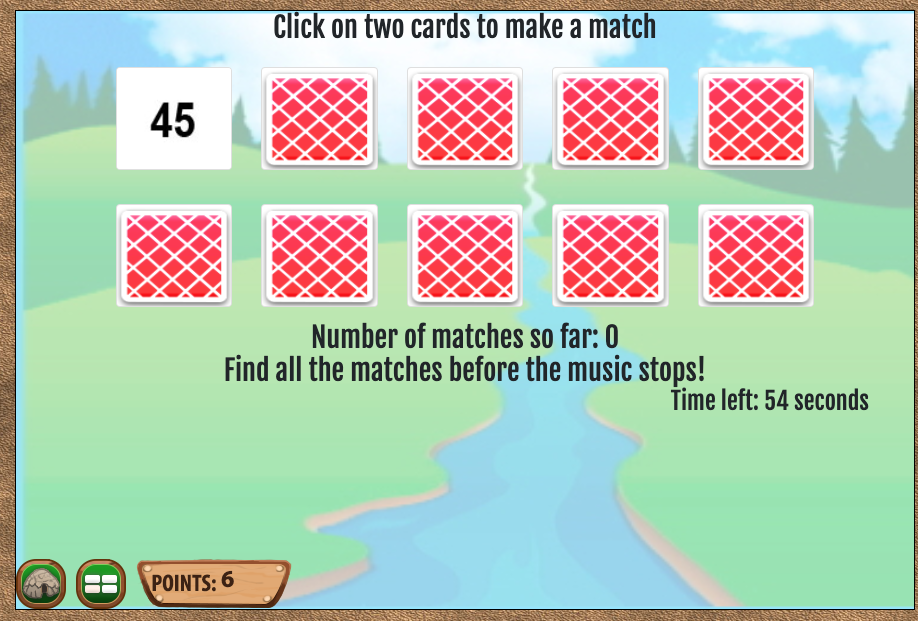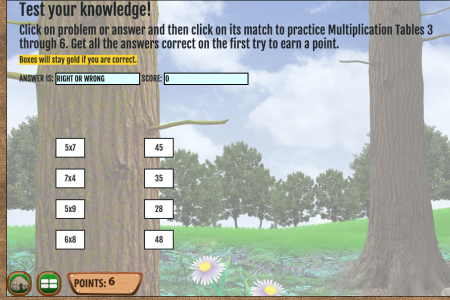 There are three games in the Making Camp series for teaching multiplication:
All of these games will run in any browser on Chromebook, Mac or Windows computers. There are also downloadable versions from the App Store and Google play for iOs and Android devices.
Making Camp Ojibwe is our free version with all of the activities mentioned above, as well as nine more for teaching math, eight Native American history videos (mostly Ojibwe) with questions and a virtual wigwam where players can outfit with items purchased with points they earned by answering math and social studies questions.
Making Camp Bilingual is a – you guessed it – bilingual version of Making Camp Ojibwe, in Spanish and English. If you have Spanish and English speakers in your class, all your students can play the same game, simply selecting their preferred language on each page.
Making Camp Premium – has three times the activities of Making Camp Ojibwe and includes a Words section for teaching English/ Language Arts along with math and social studies. Just want to throw out there that this app won the Parent and Teacher Choice award.
The fourth game in this series, Making Camp Lakota, teaches division
Teaching Multiplication with Augmented Reality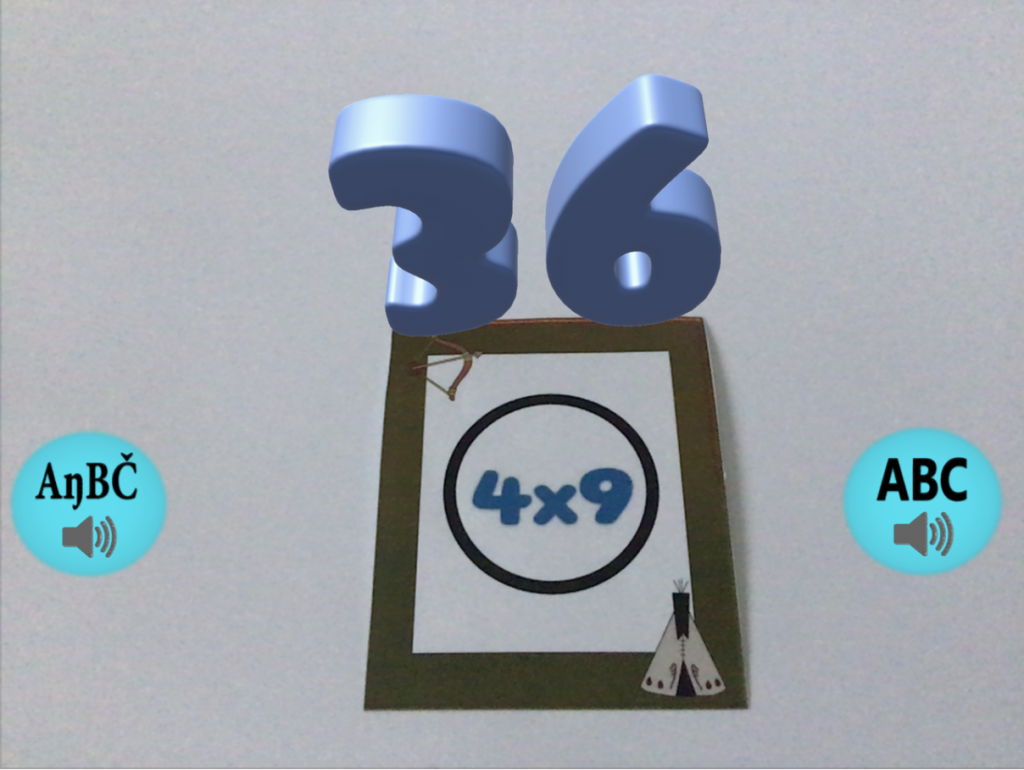 Get up and move with Math: The Universal Language!
I recommend you put the cards around your classroom so students need to get up and move around to see the correct answer. This is direct teaching of multiplication since students don't need to match or remember anything. They just point the phone or table at the card and the answer pops up. Tap the speaker button to hear the problem and answer read in the language of your choice.
Math: The Universal Language – Lakota lets you solve multiplication problems in English or Lakota. Get it here for iOs in the Apple app store or download it here for Android in Google Play.
Math: The Universal Language AR , in Spanish and English is now available in Google Play as a beta version. Download it and check it out.
This is all great for simple one-digit multiplication but what about word problems or two-digit multiplication?
Glad you asked. Check the next posts for the answers.