Happy Friday! You know what time it is…it's time for the Freebie Friday. Today's freebie is the math pretest for AzTech Games. You can use this pretest online for free. Also, you can use it whether you are or are not using our games. It's a great resource to test students on various topics such as fractions, graphs, timelines, and more. The best part is that it's bilingual. The pretest is available in English and Spanish. You can switch between languages by utilizing the green language button in the top right corner. Find the AzTech Games pretest below.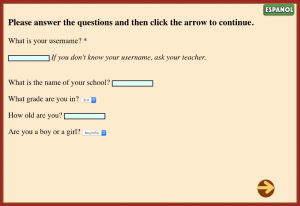 We like to provide resources, like the one here, because they supplement the content in our games. This pretest is a great way to gauge where your kids or students are before playing our games. Even if you don't use our games, this pretest is still a great resource as an assessment tool for the previously mentioned math topics in the pretest. You can find other great teacher resources on our Teacher Resources page. There you'll find vetted videos, historical photos, vetted links, and more that you can use in the classroom, at home or for any other educational need. Also make sure to browse our teacher resources on other various educator sites. We have great math videos on our Teacher Tube channel since that may be more accessible to educators than other video websites. We also have more resources on our Teachers Pay Teachers page. Make sure to check those out!
As always, come back next week for another Freebie Friday!
---
Join Xitlali and Jose as they rush to history class and end up on an adventure. Download AzTech: The Story Begins today!