Did you know that teachers work an average of 12-16 hours a day? According to EdTech, teachers are expected to arrive to school an hour before class starts and stay after school for up to five hours for mandatory meetings, grading tests, papers and projects, and as volunteers for school events. Many teachers remain at school for even longer helping students on a one-on-one basis. We know that teachers are incredibly busy and we're here to help with our awesome (and free) teacher resources.
If you haven't already heard, we are giving our website an extreme makeover. One of the key parts that we've already updated is our teacher resources pages where we offer free, downloadable Power Point and PDF versions of math lessons. AnnMaria recently explained how we updated our Fish Lake teacher resources page because it was, well, a mess. Basically, we put all the resources on the page in random order, then repeated the word "download" for every single resource! Our Spirit Lake teacher resources page had the same problem, and we recently cleaned it up so it's clearer and easier for teachers to use.

The Spirit Lake materials supplement the Number and Operations for Common Core Base 10 Standards that Spirit Lake teaches. Don't let the phrase "Common Core" make you think these resources aren't for you! We're pretty sure whatever standards your school has adopted these include subtraction, multiplication, division, word problems and computing area or perimeter. Check out the downloadable links here.
If you find these resources helpful, you should also visit our other teacher resources pages for Fish Lake, Aztech, Forgotten Trail, and Making Camp.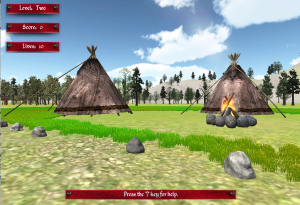 If you like the Spirit Lake teacher resources, just think how much more you'll like the game! Download it for Mac or Windows from:
Our website, or
The Microsoft Store(Windows only)